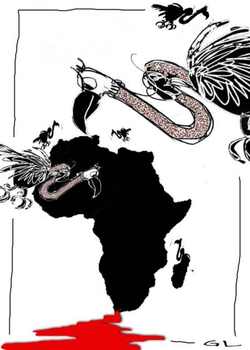 Africa's urban food markets will increase fourfold by 2030, and small and unlisted companies setting out to supply them hold high-yield potential for the global finance industry
The Africa Report | 22 July 2014
Global funds for African farmers
By Gabby Asare Otchere-Darko in Accra
In making 2014 the 'Year of Agriculture' [sic!], the African Union has concentrated its focus on private-sector investment and public-private partnerships to drive the sector.
Private equity (PE) financiers, funds and investors who put money into companies not listed on a stock exchange are answering the call. United States- based firm KKR & Co. made its first African PE investment in Africa through Ethiopia's Afriflora, a rose producer, in early June.
Kenyan PE investor Centum Investment Company is now engaged in a legal tussle over its bid to take over REA Vipingo Plantations, the owner of several East African sisal farms.
There is great potential in agriculture-focused PE funds. In June 2013, the Africa-focused Future Agricultures Consortium reported that there were 53 PE funds that had raised or were raising funds targeted at African agriculture.
Twenty-seven of them are focused solely on agriculture, but together they had a target of raising an estimated $5.8bn.
SME interest grows
Small and medium-sized enterprises (SMEs) account for 90% of business activities in many African countries. African Agricultural Capital, backed by Belgium's Volksvermogen, the Rockefeller Foundation and the Gatsby Foundation in 2004, was the first fund focused on small companies in African agriculture.
Others are now active in that space.
The AAF SME Fund is a $36m pan-African PE fund dedicated to companies along the agricultural value chain.
Last year it took an equity stake in Top Crust, a bakery in Lagos, Nigeria, with expected annual yield on investment in excess of 35%.
With increasing urbanisation and fast-growing middle classes, Africa's urban food markets are expected to grow fourfold by 2030, according to a World Bank study.
"There is a growing food gap between regional demand and supply, and between regional supply and global demand.
"We see this as a win-win opportunity to make decent profit for our investors and create significant wealth for the continent's farmers – including the millions of small-scale farmers – with access to inputs, best practices and strong links to markets," explains Brian Frimpong, managing partner of Databank Agrifund Manager, which manages the AAF SME Fund.
The AAF SME Fund has committed $4m in debt and equity to Cameroon's West End Farms, a 350ha farming enterprise that is projected to expand into a 20,000ha operation.
"The demand for PE funding in agribusiness is huge. We have reviewed over 500 viable business plans since 2012, and we have over $100m in approved projects in the pipeline," says Frimpong.
The fund managers intend to launch the AAF SME Fund II early next year to raise more than $100m.
Capacity building
SMEs not only require funds but technical support too. Accordingly, Phatisa, managers of the parent $243m African Agriculture Fund, has secured a technical assistance facility of €10m ($13.6m) to finance studies and capacity-building projects for small firms, bottom-of-the-pyramid market support and out-grower and smallholder schemes across its portfolio companies.
The global players are bringing in larger resource bases. Tana Africa Capital, a $300m fund founded in 2011 by South Africa's Oppenheimer family and Singapore's Temasek, also aims to invest primarily in agribusiness and consumer goods across Africa.
In April, The Carlyle Group ended fundraising for its Sub-Saharan Africa Fund after taking in $198m more than its $500m target.
It is investing in agriculture, consumer goods and logistics. It made its first investment in Tanzania's Export Trading Group, a transport, storage and distribution company.●