Weekly Times | 27 May 2014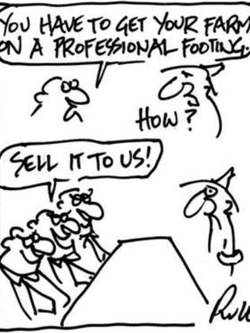 Global agriculture on verge of investment gold rush
by CHRIS MCLENNAN
Sowing strong: Global agricultural earnings are set to jump in the next decade. Source: WeeklyTimesNow
INVESTORS are poised to pour even more money into Australian farming lured by the promise of high returns.
The trickle of institutional funds will become a flood if the nation's network of family farms can get their finances on a more professional footing, one expert said.
An international finance conference was told global agricultural earnings were set to jump in the next decade, beating the traditional safe haven of equities and bonds.
Finance expert Margaux Beauchamp said agriculture would outperform bonds and equities by up to 8 per cent over the next 10 years.
Mrs Beauchamp, the corporate finance executive director for investment bank BDO, said the earnings forecast was for US agriculture, but Australia was not far behind.
"We just have to get our own house in order, promote a higher level of professionalism in the farming industry," she said.
Mrs Beauchamp was one of 600 delegates to attend this month's Global AgInvesting Conference in New York.
US farmland is forecast to deliver returns averaging 11 per cent, with bonds and equities at 3 and 5 per cent respectively.
Banker ANZ has recently forecast that Australian agriculture needs $1 trillion of investment for production growth and farm turnover between now and 2050.
The Victorian Government is aiming to double the state's food and fibre production by 2030. Queensland wants to double its production by 2040.
A report by Cambridge Associates LLC showed the growth in value of agriculture assets in recent decades has matched or exceeded other asset classes.
Ms Beauchamp said the challenge was for Australia's agriculture sector to perform as strongly as the US sector.
While appetite is growing among institutions for agriculture sector investment, Ms Beauchamp said work was still needed for the sector to realise its full potential.
"Conference presenters were clear in their view that the institutional 'herd' would eventually find agricultural investment and this is something BDO in Australia's food and agribusiness team hopes will occur in the Australian sector over the next decade," she said.