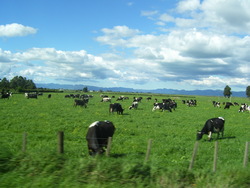 MENAFN | 6 March 2014
Shanghai Pengxin to Acquire New Zealand Dairy Farm
SHANGHAI, Mar 06, 2014 (Menafn - SinoCast Daily Business Beat via COMTEX) --Private Chinese firm Shanghai Pengxin Group Co., Ltd. has gained regulatory approval to acquire New Zealand-based Synlait Farms.
Synlait Farms said on March 5 that Shanghai Pengxin had won a nod from the Chinese authorities to acquire it and this meant that all examination and approval procedures related to the deal had been completed.
Jiang Lei, president of the Chinese firm, declined to make a comment on this, stating that principal of the project was still in Oceania. However, people in the know disclosed in an interview later that the acquisition was expected to be completed soon and raw milk turned out by the farm would be mainly used to satisfy the demand in the Chinese mainland. Notably, there would be great possibility for the farm to become a major milk source of its self-owned brands. Currently, the farm run and operated 13 pastures, owning 13,000 cows.
It triggered a NZD 87.5 million, or about CNY 440 million, tender offer for the New Zealand-based farm in November 2013 and through SFL Holding, the deal will be completed. And according to the latest information, the acquisition price has been raised to NZD 92.5 million, or about CNY 470 million.
SFL Holding said in a statement recently that it had informed the board of Synlait Farms that it had gained approval from Chinese authorities including the National Development and Reform Commission (NDRC), the top Chinese price planner, for the deal. Up to 99.58 percent of the shareholders of the target agreed with the acquisition and as planned, they would gain payment from it no later than March 11 this year.
Actually, this has not been the first time for the Shanghai-based firm to stretch out reach to the dairy industry and at the start of 2012, it acquired 16 pastures covering a land area of about 8,000 hectares in New Zealand for CNY 1 billion. Despite of opposition by some local people, it succeeded in acquiring the pastures finally and set up a dairy subsidiary on the base of them in December 2012, becoming the first private Chinese firm to successfully acquire pastures and own self-owned milk source bases in the Oceanian market.
Song Liang, an industry analyst, pointed out that it was shining prospect of the Chinese dairy market that pushed the firm to continue launching mergers and acquisitions in markets overseas and actually, gap between the supply and demand of milk sources in the market was still quite large.
(USD 1 = CNY 6.12 and NZD 1 = CNY 5.15)

Source: www.nbd.com.cn (March 06, 2014)