The Australian | 1 February 2014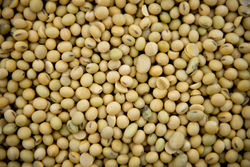 "Agriculture is our new target," says Yota Orii, the deputy general manager of Mitsui's international corporate strategy department. "We expect demand from Asian countries like China to increase. We are trying to focus on agribusiness, it's a very strategic area for us." ORii says TMitsui's 110,000ha agribusiness in Brazil provides 60 per cent of the soya beans which Japan imports from Brazil. (Photo: Bloomberg)
Mitsui begins shifting its focus to agribusiness
by ROWAN CALLICK
THE top priority for Mitsui's massive investments in Australia is starting to shift from resources to agribusiness.
What this Japanese corporation does is worth watching closely, for it hasn't made many false moves.
It is one of the biggest investors in Australia, having taken stakes worth $13 billion over the last 10 years -- adding to a huge accumulated inventory of holdings, at least 43 of them, whose current value the company doesn't like to evaluate publicly.
It is the fourth-largest exporter from Australia, selling exports worth more than $8bn a year -- behind only BHP Billiton, Rio Tinto and Glencore Xstrata.
The corporation is descended from a trading firm founded almost 500 years ago.
By the time of the Meiji Restoration, when Japan rushed into the industrialised world at the end of the 19th century, it was already large enough to seize the fresh opportunities to become a zaibatsu, a conglomerate, crucially led by a manager from outside the dominant family.
Mitsui remained at the top to evolve into a different kind of corporation, a keiretsu, after World War II. It now owns assets worth $126bn, employs 45,000 staff globally, and operates in 67 countries -- led by Australia.
Its biggest area of involvement within Australia remains in mineral resources and energy -- for which, says Yota Orii, the deputy general manager of Mitsui's international corporate strategy department, "Australia is not one of the most important countries but the most important country, and has been for many years".
The company is one of the oldest to have traded continuously in Australia, having opened its office in Sydney in the year of Federation, 1901.
It grew to three offices, from which it rapidly expanded exports, led by wool and wheat, in the years running up to World War II.
One third of total trade between Japan and Australia -- $65bn in the last financial year -- was handled by Mitsui Australia.
"Agriculture is our new target," says Orii, speaking at Mitsui's vast corporate headquarters in Tokyo, "because we expect demand from Asian countries like China to increase. We are trying to focus on agribusiness, it's a very strategic area for us. Our Plum Grove investment was an early indication of this direction."
The company bought 25 per cent of this Western Australian grain handler, at the cost of about $10.5 million, 13 months ago.
Orii says: "We already have a 110,000ha agribusiness in Brazil, half the size of Tokyo metropolitan area. It provides, for instance, 60 per cent of the soya beans which Japan imports from Brazil."
The company began its involvement in exporting iron ore and coal in 1962, when Mitsui became the first Japanese investor in an Australian mine, the then Thiess Peabody Mitsui Coal Joint Venture -- where BHP is now its partner.
Orii says: "We have remained in the projects where we were founding partners, while many others have come and gone, especially in the coal industry.
"Our philosophy is to have a longer-term view to develop business. We always think how we can contribute to the host country of our investments, we're not there just to obtain gain or profits."
For instance, among its other programs the Mitsui Education Foundation has for 40 years been sending eight Australian undergraduates every year on a study visit to Japan for three weeks.
Australia is the No 1 country in which Mitsui has accumulated investments after Japan. It is followed by the US and Brazil.
Half a dozen years ago, the company became the largest shareholder in the Australia-based Sims Group, the world's largest metal recycler.
Last year Mitsui invested about $800m for 7 per cent of a new iron ore mine in Western Australia, Jimblebar. This extended a long-term joint venture relationship with BHP, which owns 85 per cent, and another Japanese trading giant, Itochu, which has 8 per cent.
Recent investments have also included 28 per cent of a joint venture with French company GDF Suez for gas, coal and wind power plants around Australia with a total capacity of 2600 megawatts, for about $480m.
When president and chief executive Masami Iijima met Tony Abbott in Canberra in October last year, the Prime Minister commended Mitsui's investments as "essential".
Understandably for a corporation based in a country with a huge economy but very few resources, Orii says: "We have important plans for energy products. We recently found a big gas reserve in Mozambique, with American company Anadarko" -- into which the company is expected to invest about $3.4bn.
What is the impact on Mitsui of the Japanese government's successful move to push down the value of the yen?
"There are pluses and minuses," says Orii. "If you're thinking of investing overseas, it costs more, but the consolidation into yen of profits from overseas projects whose profit was originally denominated in Australian or American dollars is positive for us.
"Mitsui was originally a trading company, but now I think it is becoming more like an investor. We are not a manufacturer -- we don't have the technical knowhow to make products.
"Our policy at this moment is not to take majority stakes but minority shareholdings. We can also be a kind of bridge between suppliers and end users in Japan -- for instance with Nippon Steel as an iron ore buyer, a company with which we have a good relationship," he says.
"We can also be an off-taker of products from companies in which we are investors, for instance selling gas to Japanese utilities like Tepco.
"We can also help access developmental financing for foreign projects through, for instance, the Development Bank of Japan, which can be a big benefit for our Australian partners as well.
"And as a very diversified company, we have a lot of knowhow in many areas -- not so much about technology as about the relationships of players in these fields. So we can contribute to projects at many stages."
The company has supplied, for instance, steel pipes for the Browse LNG project, and tyres, steel rails and mining equipment for Brazilian mining giant Vale, of which Mitsui owns 15 per cent of its controlling company.
Vale is the only global company to rival BHP or Rio for iron ore exports.
Orii says: "We prefer to have seats on boards and to be involved to a certain extent in the administration of the company. We have two members on the Vale board, for instance."
Many of Mitsui's Australian involvements, however, are in unincorporated joint ventures -- where directorships are not relevant but where the company has voting rights in accordance with its participation.
"Everybody is raising the issue of productivity, we understand that," Orii says. "Labour costs, and production costs more generally in Australia, have been going up. Fortunately, Mitsui joined in many projects at an early stage, and so even though costs in Australia are incredibly high, many of our projects are very, very competitive.
"If we had joined greenfield developments in, for instance, iron ore in 2003 or 2004, it would have cost a lot and may not have been competitive.
"But we joined from the beginning, and our involvements in coal and iron ore in recent years have mainly been in expansions, not new projects."
Chinese competition to invest in Australian mining has helped drive up the price, he says, so that "the cost of participating in new natural resource projects at this moment is very high, and sometimes not competitive."
Even when the iron ore price was soaring two to three years ago, Mitsui didn't have any estimation for the price reaching $US250 or $US300 per tonne -- about double the current price -- which might have persuaded it to commit to fresh greenfield investments.
The company usually discloses in May its estimations of some commodity prices -- though not usually iron ore -- over the year ahead.
"If new strong products are developed at a very competitive price that might rival steel, that would force us to revise our expectations," says Orii.
"But we don't think that will happen in the short to medium term. Steel is still the most competitive and efficient metal, and we expect demand for it to remain strong, especially in China and India."
Thus while it doesn't anticipate a windfall price rise, nor does it expect a significant fall.
Mitsui as a whole has 12 business units and three regional units -- Asia-Pacific; Europe, Middle East and Africa; and the Americas. Each has its own strategies.
The company's annual profit tended to remain very stable, at around $340m, until about a decade ago. Then, following the super-hike in commodity prices, the profit leaped, last year reaching $3.4bn.
Its shareholding is very diverse, with the biggest owner holding about 10 per cent of the stock.
The closure of Japan's 50 nuclear power plants has caused a massive hike in demand for gas. The nuclear industry had been providing about 25 per cent of Japan's power, which has been replaced almost entirely by coal, heavy oil and gas -- with the latter, the biggest component, coming substantially from Australia.
The US-led shale gas revolution is changing the shape of the gas industry, with the price becoming more competitive, says Orii. He says Mitsui -- which joined the North West Shelf joint venture back in 1985 will continue to look for further investments in gas in Australia, as in other commodities.
No sector is ruled out. But Orii concludes that as Mitsui revisits its rural trading roots in Australia, governments, farmers and others with agribusiness project proposals in particular might consider giving this low-key and surprisingly little-known Japanese giant a call.