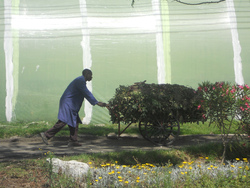 Rose grower in Lake Naivasha, Kenya. Photo by WageIndicator - Paulien Osse.
Corpwatch | 10 Oct 2013
Flower Growers in Kenya Strike Against Karuturi Global
by Pratap Chatterjee
Flower growers in Kenya have gone on strike to protest unpaid wages from Karuturi Global, the Indian flower export multinational. The strike is the latest in a series of problems that have caused the company share price to plummet from over Rs39 in 2008 to Rs0.63 in mid-September 2013.

Sai Ram Karuturi, a former cable shop operator from Bangalore and the founder of Karuturi Global, is one of the leading examples of investors who have been snapping up land in Africa. These companies grow crops for export, taking advantage of new laws that allow foreign companies to lease land directly instead of buying crops from local farmers.

Karuturi Global invested in the booming horticultural industry near Lake Naivasha in the Great Rift Valley, where they grow a significant quantity of the 600 million roses that the company sells annually.

In early October, Francis Atwoli, secretary general of the Central Organisation of Trade Unions, accused Karuturi of failing to pay over 4,000 workers in Naivasha for six months. Staff living in company quarters also had their electricity and water cut off for non-payment of bills.

"Despite this situation, the management is yet to show concern or institute any measures towards addressing the issue," Atwoli wrote in a letter dated October 5 urging that the government take action. "The minister for labour and his team are empowered by the Labour Act to arrest and prosecute such rogue employees."

A secondary school on the farm was forced to shut down because of lack of money. "We have decided to take a break until our grievances are addressed as we cannot teach on empty stomachs," one teacher, who spoke on condition of anonymity, told AllAfrica.com.

Karuturi disputed this allegation. "In regards to the claims of unpaid salaries, we wish to inform you that Karuturi has always been ready and willing to settle any salaries," the company told the website in a statement.

The company is already in trouble in Kenya over charges of tax evasion. This past April, the government accused the company of under reporting cut-flower exports to a Dubai subsidiary in order to avoid $11 million in taxes.

"Companies like Karuturi are haemorrhaging Africa," said Dr Attiya Waris, a senior lecturer in tax law at the University of Nairobi and vice-chair of the Tax Justice Network, at the time. "Transfer mispricing is robbing Kenyan workers and citizens of access to good public education, health care, transport services and a clean environment, which our government can only provide through proper revenues."

Kenya is not the only country in which Karuturi has been accused of taking advantage of local farmers.

For example, Karuturi Global's concession in Gambela, Ethiopia, was investigated by New York-based Human Rights Watch May 2011 where they found that maize, sorghum, and groundnut crops planted by local Anuak farmers had been cleared without consent and residents moved off their land.

The Gambela project was also the subject of worker complaints with the Ethiopian Department of Labour and Social Welfare. "Workers complained their salaries were delayed by up to 20 days and said the company did not provide identity cards, safety equipment, medical treatment or proper residence," Beyane Assefa, a labor inspector, told the Hindu newspaper.

In addition to the human rights issues, Karuturi's Ethiopian operations were hit by major flooding in 2011, which caused it to lose most of its crops, which led to investors dumping shares in the company.