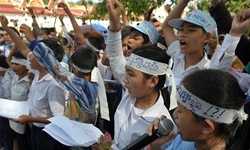 Affaires stratégiques | 22 octobre

Un problème criant de transparence foncière dans les pays du Sud
L'Etat du Cameroun vient de concéder 12 000 hectares de terres pour une durée de 99 ans à l'entreprise agroindustrielle américaine Herakles Farms pour son projet controversé de palmier à huile dans la localité de Nguti (Sud-Ouest). Mais plus qu'une polémique autour de ce projet, c'est le manque de transparence dans le cadre de telles transactions qui soulève des interrogations. Et pour cause, depuis 2007, les ventes de terrains dans les pays du Sud ont considérablement augmenté, tirées par l'essor des biocarburants, la crise alimentaire mondiale et l'intensification des activités de plantations forestières. Un rapport du think tank britannique, The Overseas Development Institute (ODI), intitulé « The possible shape of a land transparency initiative » revient sur l'enjeu que constitue la transparence dans le cadre de l'acquisition de terrains pour l'investissement agricole.
Dans un contexte où les pays du Sud et plus particulièrement ceux du continent africain, ont lutté pendant des années pour attirer de nouveaux investisseurs dans le secteur de l'agriculture, nombreux sont ceux qui ont salué l'intérêt accru de grandes compagnies en la matière. Toutefois, si les bénéfices sont considérables pour les pays hôtes ainsi que leur population, il n'en demeure pas moins que l'acquisition de terres à grande échelle a suscité des préoccupations au sujet des risques générés par de telles transactions, notamment au regard de leur transparence, souvent limitées. Cette dernière considération a ainsi conduit à la multiplication des appels pour une meilleure gouvernance dans le secteur foncier. A ce titre, lors du Sommet du G8 de juin 2013, organisé par le Royaume-Uni à Lough Erne, une initiative mondiale sur la transparence des transactions foncières a été débattue par les dirigeants mondiaux.
La nécessité d'accroître la transparence réside dans le constat que, dans un grand nombre de cas, il n'y a eu aucune divulgation publique des informations sur les termes et les conditions d'acquisition des terrains. Bien souvent, les rapports des médias ont été la seule source d'information disponible.

Selon l'étude de l'ODI, le manque d'informations divulguées au public est attribué à deux facteurs principaux. D'une part, les transactions sont menées dans des cadres très confidentiels, et, lorsqu'elles sont rendues publiques, les informations sur les offres de vente de terrain et les montants en jeu pâtissent du manque de coordination entre les différentes entités étatiques. Il est donc très difficile pour la société civile, d'avoir accès à des données pertinentes. D'autre part, il n'existe pas d'obligation de publicité des offres et du montant des transactions, et ce, dans la mesure où les pays en développement manquent souvent d'une administration qui gère et enregistre les informations concernant l'achat de terres.

En outre, le rapport relève deux autres enjeux auxquels doit faire face le secteur de la transaction foncière dans ces pays : la domination par des élites, peu représentatives des utilisateurs des ressources, du processus politique inhérent à la vente de propriété foncière et le manque de données harmonisées et standardisées. Et cette combinaison offre des conditions propices à la corruption et à une mauvaise gouvernance en la matière, engendrant d'ailleurs une perte de confiance de la part des investisseurs.
Ainsi, au travers de l'examen d'initiatives pour plus de transparence élaborées dans d'autres secteurs (industries extractives, aide internationale, etc.), le rapport tend à mettre en lumière des principes sur lesquels devraient reposer une initiative mondiale sur la transparence des transactions foncières. A ce titre, cinq enseignements sont repérés : la transparence n'est pas un objectif en soi mais un moyen pour une fin ; un système de surveillance doit être établi dès le début ; les données devraient être de haute qualité et librement accessibles ; une structure institutionnelle claire doit être mise en place avec des rôles distincts et des mandats aux niveaux international et national. Mais cette initiative est loin de faire l'unanimité et des voix s'élèvent déjà pour la condamner dans la mesure où cette dernière ne permettrait pas de faire stopper l'accaparement des terres et des ressources. Plus encore, c'est le G8 qui est remis en cause puisque certains considèrent qu'il ne dispose d'aucune légitimité démocratique pour décider sur le foncier.
Sources : ODI, INVESTIR AU CAMEROUN