Agrimoney.com | 16 October 2013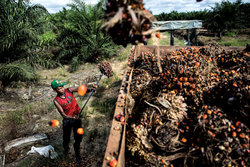 A July 2013 report by
Bloomberg
investigated labour exploitation on KLK's plantations in Indonesia.
EPO shares soar after approach from palm oil giant
Shares in Equatorial Palm Oil soared 40% after the palm oil minnow revealed it was in talks over a takeover by Malaysia-based giant Kuala Lumpur Kepong, which would gain a foothold in Africa through a deal.
Shares in Equatorial Palm Oil – which in September admitted "material uncertainty" over its future thanks to funding difficulties at a joint venture with Biopalm Energy - touched 7.0p in early deals on Tuesday.
The jump, to a level which valued the group at £14m, followed the announcement that it "is in early stage discussions" over a deal with Kuala Lumpur Kepong, the Kuala Lumpur-listed vegetable oils and property leviathan with a stockmarket valuation of £4.8bn ($7.7bn).
Funding squeeze
KL Kepong is considering a number of options for the deal, potentially limited to funding the Equatorial Palm Oil's joint venture with Biopalm.
The 50:50 joint venture, named Liberian Palm Developments, is developing palm plantations in Liberia, in West Africa, but has run into funding hiccups, highlighted by a dispute with Biopalm over injecting further cash.
However, KL Kepong may also make an offer "for all or part" of Equatorial Palm Oil, with City takeover rules requiring a decision by November 12, Wednesday's statement said.
'Material uncertainty'
For Equatorial Palm Oil, a deal would dispel a cloud stemming from the funding dispute, which the group revealed in September had prompted it to advance $8.0m to the joint venture "in anticipation of the provision of the external funding by Biopalm", which is owned by India's Siva Group.
However, Equatorial Palm Oil acknowledged that while it was in "advanced" talks over "a number of short term facilities and funding solutions", there was no guarantee of these negotiations succeeding.
This meant "the existence of a material uncertainty which may cast significant doubt about the group's ability to continue as a going concern".
Equatorial Palm Oil shares earlier this month hit an all-time low of 2.77p.
Into Africa
For KL Kepong, a deal would represent its first venture into Africa, a continent where rivals such as Sime Darby and Golden Agri-Resources have already gained palm oil concessions, of 220,000 hectares and 350,000 hectares respectively.
Equatorial Palm Oil has a 169,000-hectare concession, although a planting programme is still in its infancy.
Palm oil groups are targeting West Africa for expansion after the saturation of the industry in Indonesia and Malaysia, the top two palm-producing countries.
Oil palms can be grown in a relatively narrow band around the equator, competing largely with cocoa and rubber for land.
Market reaction
The deal was viewed by London broker VSA Capital as fulfilling its expectations of Equatorial Palm Oil proving attractive to one of the Asian majors.
The broker restated a comment that "with considerable opposition to the granting of further large-scale palm concessions in Liberia, and Siva apparently reneging on some of its funding commitments, we would imagine it is likely that another of the large South East Asian palm oil producers might look to acquire Equatorial Palm Oil".
Equatorial Palm Oil shares eased back to 6.43p in late morning deals in London, a gain of 33% on the day.