Weekly Times Now | 26 August 2013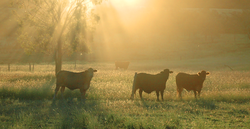 Murray Goulburn Co-operative says it has sold a dozen dairy farms to a European superannuation fund under MG Partnerships and was talking to more European funds and others in Asia.
Foreign investors key for dairy: MG
MURRAY Goulburn says it plans to bypass traditional bank lending by forging alliances with international investors to support dairy farms.
As the number of farms under administration or external bank control in Victoria's dairy heartland and other parts of the country continues to rise, Murray Goulburn Co-operative general manager of shareholder relations Robert Poole said external, especially foreign, capital was finally emerging as a lifeline for embattled farmers.
The co-op has launched a sale and lease-back scheme called MG Partnerships, where it uses its scale and status in the industry to attract offshore equity funds to purchase farm land that is then leased back to suppliers and shareholders.
"A lot of the banks are still funding agriculture like they did in the 1950s and 60s, with 50 per cent equity and mums and dads borrowing money," Mr Poole told The Australian on the sidelines of PPB Advisory's inaugural agribusiness conference.
"That is, I think, going to rapidly change and I think the banks are going to be involved in that or they are not. Because the external capital is inevitably going to come.
"Overseas investors are taking a more positive long-term view of agriculture than what a lot of local banks and superfunds are."
His comments come after former Australian Securities & Investments Commission chairman Tony D'Aloisio called on the big banks to change their mindset when lending to the agricultural sector, urging them to view farm debts as less of a problem and more of an opportunity.
Mr D'Aloisio, who is now a PPB director and president of the Winemakers' Federation of Australia, was backed by PPB's Australasian agribusiness team head Greg Quinn.
He said the banks were becoming more "nervous" about their ethical obligations to the sector, given the increased focus in recent months on the opportunities for agricultural assets as the Rudd government has declared the end of the mining boom.
But Elders' Australian network group general manager David Goodfellow told the PPB conference that the banks had been making some "very sensible decisions over the last little while" in dealing with pastoral properties.
"There is every reason there could have been panic and mayhem in the north," he said.
"But generally the response from the banks has been mature and orderly. It could have got completely out of control. I genuinely take my hat off to the banks for their behaviour through these times."
Two of Victoria's biggest dairy properties have collapsed this year. In May, Hines Dairy Farm was placed into receivership after the director of the company put its operation into voluntary administration with PPB.
This followed the placement of the Alan Fisher Pastoral Company into administration in February.
"We've had some large dairy farms go into administration this year. We understand that sometimes happens," Mr Poole said. "But we would encourage the banks to be careful, act early, support the farmers absolutely where they can."
Mr Poole said the co-operative had now sold a dozen dairy farms to a European superannuation fund under MG Partnerships and was talking to more European funds and others in Asia.
"We use our status to bring external funding into the sector, farmers bring projects to us where they want to buy a farm next door through equity rather than debt. And we marry that up -- we sit as a corporate counter-party in the middle," he said.
"We have strong interest at the moment from offshore. The sector is looking good. The Australian funds are starting to look at it too, now."
He said the funds were receiving returns of about 5 per cent per annum plus capital growth.
Other foreign fund investors in Australian land include the Swedish Forsta AP-fonden pension fund and US fund manager TIAA-CREF.
The former has spent $100 million buying 15 agricultural properties in Australia, while earlier this year the latter bought $125m worth of properties from the Australian PrimeAg company.
Mr Poole also revealed the co-op now had more than 30,457 visa applications under management for its suppliers after employing a registered migration agent earlier this year to devise domestic and international farm workforce strategies for dairy farmers.
"We are trying to do everything we can to stimulate growth in the farm sector. Our biggest challenge is lack in supply -- if we are going to be a serious player in Asia in the next 10 years, we need to go from 9.5 million litres up to probably 15 million. And to do that we just have to generate cash in the farm sector," he said.