Reuters | 26 April 2013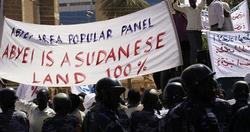 Photo: Reuters/Mohamed Nureldin Abdallah
(Reuters) - Sudanese police used tear gas and batons to break up a protest of more than 250 people on Friday demanding that the government revoke the sale of farming land to Gulf Arab investors, witnesses said.
Protesters blocked the main road of Um Dum outside the capital Khartoum to urge the government to give them land in the area instead of to investors planning an agricultural project there, the witnesses said.
Police said it had been forced to act after protesters hurled rockets at officers and burned tires, the state-linked Sudanese Media Center (SMC) said on it website. Several persons had been injured and some protesters detained, it added.
Like in other African countries, Gulf Arab investors have been investing into farmland in Sudan, which struggles with an economic crisis, to secure food supplies. Critics say some investors take advantage of poor countries and farmers.
(Reporting by Khalid Abdelaziz; Writing by Ulf Laessing; Editing by Sandra Maler)