Trustlaw | 11 April 2013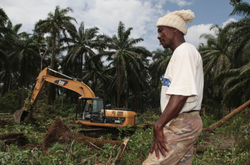 A worker stands in front of an excavator clearing land for a palm oil plantation in southern Sierra Leone, on Oct. 28, 2011. The Sierra Leone plantation of Lichtenstein-based Socfin is one of many such projects in Africa, spurred by global demand for food and biofuel but criticised by some as "land grabs". REUTERS/Simon Akam
Stella Dawson
WASHINGTON (TrustLaw) - Imagine whipping out your smartphone, walking the boundaries of your property and pressing "Send" to upload a map of your land to a common databank. You also could attach a photo of a legal contract proving your tenancy or ownership.
Building land inventories, Wikipedia-style, would be a cheap and easy way for poor, rural communities to compile a record of property rights and land usage patterns. It also could reduce corruption and help lessen illegal land grabs, said companies promoting the technologies and advocates of crowdsourcing at a World Bank conference on Land and Poverty this week.
"Governments are so dysfunctional in many part of the world, this lets communities lay down a record of their land rights, and resolve disputes amongst themselves," said Brent Jones, marketing director at ESRI, a mapping company which launched a free mobile application this week.
The pressure to record land tenure is mounting worldwide. Since 2005, investors have accelerated their purchase of large swathes of land, particularly in Africa and Southeast Asia, for commercial agriculture, biofuels, mining, energy and lumber, to meet the growing global demand for food and resources as China and other developing countries industrialise.
There are no accurate global records of large-scale land investment and its impact on local people. However, the Land Matrix, a databank of big land sales launched a year ago, estimates that 203 million hectares of large-scale land deals have been transacted - equivalent to 8 times the size of the United Kingdom - in less than a decade.
LandMatrix is among those turning to crowdsourcing - that is, soliciting information from masses of people to help add or check data. After a year of trying to check each big land deal with limited success, it now is turning to Wikipedia-style fact-checking and open source technology that is free for use, in order to quickly build its database on major land transactions. Its new site launches in May.
UNRECORDED LANDS
Big commercial purchases can displace small-scale farmers, pastoralists and forest people who have communal land rights that were unrecorded, leading to conflict over land resources. Corruption among local or national elites who sometimes collude with investors in selling the land results in the people who have used the land for generations getting little in return, even losing their source of livelihood.
Robin McLaren, a land surveyor who consults globally on mapping technologies, said building land inventories is urgent, and crowdsourcing is the only realistic way forward in face of today's rapid changes.
"The current paradigm is broken," McLaren said.
International development agencies such as the World Bank and USAID are financing big-government, top-down models of land inventory and titling, but they take years to complete.
"We have 350,000 land surveyors in the world, and 1.2 billion people living in slums, and only about a quarter of the land surface is mapped for land tenure. We cannot keep up and we won't catch up," McLaren said.
In contrast, crowdsourcing allows a community to quickly build up land records, which provide a powerful bargaining tool when national governments or international corporations claim rights, he said.
In the Congo, for example, Rainforest Foundation UK used mobile technologies for indigenous and other forest-dependent peoples to create maps of their communities and their customary usage of the forests in face of competing land claims from lumber companies, he said. The intent of the interactive maps is to ensure that forest people are equitable beneficiaries in developments, Rainforest said on its mapping website.
TRANSPARENT DATABASES
Doug Hertzler, senior policy analyst at ActionAid USA, who has worked with agricultural communities in Tanzania affected by palm oil plantations, called crowdsourced mapping "essential for effective campaigning." Without accurate information about who has land rights or records on land transactions, it is difficult to understand the scope of change and its impact, he said at a session on land grabs.
The ESRI application allows the user to locate the land on a Google-type map, draw in by hand the boundary lines or use a handheld device with Geo Positioning System (GPS) to walk the boundaries and automatically record the outline; and then enter the names of who has land title and when the land was acquired. There is a charge for storing the data on the organisation's servers, Jones said.
Like Wikipedia, ESRI envisions competing claims to the land will be entered, but at least it will be transparent and if communities work together on building the database, they also can resolve boundary disputes collectively, Jones said. "It also is a way to eliminate corruption by having land ownership open-sourced, transparent and accountable," he said.
Government officials said crowdsourcing has a place, but raised questions about how disputes over competing claims would be resolved.
Thomson Reuters this week also launched
Open Title
, a programme that allows rural communities in developing countries to register land titles using open-source technologies, helping them to build a land registry that can manage growth.