Winnipeg Free Press | 9 January 2013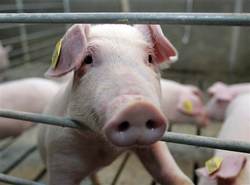 HyLife is Canada's largest pig farming company, with 53,000 sows producing 1.4 million pigs a year at over 100 farm sites. The company sources 75% of its pork from its own farms. The company has also expanded to China, where it has 6 large-scale pig farms.
By: Martin Cash
HYLIFE LTD., the locally owned Manitoba pork processor, has landed a strategic investment from a major Japanese customer, the Itochu Corporation.
The Japanese company has invested $56.5 million for a 33.4 per cent stake in HyLife, according to a release from Itochu Corp.
HyLife officials said the investment will further strengthen HyLife's position in the global market of food production and allow it to expand its business.
Don Janzen, president of HyLife, said, "This is a very exciting time for HyLife. We have had several years of significant growth, and this investment will propel us even further in our business plans."
HyLife (which changed its name from HyTek in 2011) purchased the Springhill Farms hog-slaughtering plant in Neepawa in 2008. Late last year, it hired about 250 people and added a second shift, increasing production to about 28,000 hogs per week -- an increase of 10,000 from the previous capacity.
Industry observers say the investment by Itochu is a significant development for HyLife, based in La Broquerie.
"This is huge for HyLife," said Andrew Dickson, general manager of the Manitoba Pork Council. "It means they will have a better capital base. It will send all sorts of positive signals to creditors if they need to expand or refinance, having a big partner like this."
Itochu is a sprawling holding company, operating in more than 60 countries with interests in overseas trading of food products as well as textile, machinery, metals, minerals, energy, chemicals, information and communications technology, realty, general products, insurance, logistics services, construction and finance, as well as business investment in Japan and overseas.
Last year, the company, which has more than 4,000 employees, generated US$51.9 billion in revenue.
A HyLife statement said the deal does not mean there will be any change in ownership control or management.
"Not only does the investment contribute to HyLife's sustainability, it opens up further potential for growth and creation of more jobs in the future," said Grant Lazaruk, CEO of HyLife.
It likely means a particularly strong partner for the future in the growing Asian market.
HyLife produces more than 1.4 million pigs annually. As well as the hog-processing plant in Neepawa, HyLife's integrated livestock operations include feed mills, genetics and trucking operations. It has more than 1,500 employees of its own and is responsible for about 20 per cent of Manitoba's hog production and processing.
Itochu officials said its investment in HyLife has a lot to do with the Manitoba company's expansion strategy and its priorities in developing business in Japan and Asia.
Itochu has a focus on China, where pork consumption continues to grow, as well as in the Japanese market.
Dickson also believes the investment creates much-needed stability in the market in the aftermath of last year's financial collapse of Puratone, the second-largest hog producer in the province. Puratone was acquired by Maple Leaf Foods, the dominant Manitoba hog producer, as well as being responsible for much of the province's processing out of its massive plant in Brandon, putting those formerly shaky Puratone operations on much more stable footing.
[email protected]