Wall Street Journal | 9 January 2013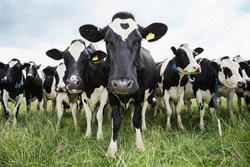 By CAROLINE HENSHAW And LINGLING WEI
SYDNEY—China's sovereign-wealth fund is one of three large funds vying to take a stake in Australian dairy company Van Diemen's Land Co., two people familiar with the matter said.
Executives from China Investment Corp. are due to visit Tasmania state in February for further discussions over investing in the company, which is seeking to raise 180 million Australian dollars (US$189 million) to expand its milk production, the people said.
VDL Chief Executive Michael Guerin told The Wall Street Journal the company had signed agreements for three large funds to conduct due diligence, but declined to confirm whether CIC was among them. All three have put in proposals featuring varying amounts of equity and debt, and Mr. Guerin said he expects to finalize a deal by the middle of the year.
CIC's interest in VDL comes as the US$482 billion sovereign-wealth fund, the fifth-largest in the world, scouts for more lucrative overseas investments tied to China's growth prospects.
The Wall Street Journal reported in November that CIC had held talks with Fonterra Co-Operative Group, FCG.NZ +2.39% the world's largest dairy exporter, about investing in the New Zealand dairy giant's newly created shareholder fund. That investment was expected to be less than US$100 million as no single investor is allowed to hold more than 15% of the shares.
A deal with VDL, which supplies Fonterra from its 24 farms, would allow CIC to take a more sizable slice of the business, said a person with direct knowledge of the matter.
"Overall, the Australia project is institutionalized enough to have more chance for CIC to get a significant minority stake," said the person.
Chinese companies are increasing their investments in Australia's farm industry as they seek to cash in on Asia's booming food demand and secure supply chains for the future. Last year, Chinese investors won some of the most high-profile deals in the sector—a Chinese-led consortium bought a giant cotton farm known as Cubbie Station and Shanghai Zhongfu Group won the right to develop a 13,400 hectare sugar plantation at the Ord East Kimberly Expansion Project.
But such deals have sparked a backlash from some of Australia's conservative lawmakers, who fear the companies will sap the country's natural resources with little regard for Australia's ecology.
All investments by sovereign-wealth funds are scrutinized by Australia's Foreign Investment Review Board, which could make it less attractive for CIC to invest in a relatively low-return business such as dairy, the person said.
But Mr. Guerin said he has "no concerns" about problems with the FIRB as "those issues have already been walked through" before the due diligence agreements were signed.
Write to Caroline Henshaw at
[email protected]
and Lingling Wei at
[email protected]