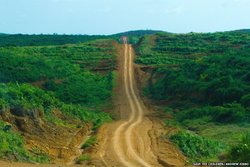 BBC | Tuesday, 11 December 2012
The controversy of land deals in Liberia
See the slideshow here: http://news.bbc.co.uk/today/hi/today/newsid_9776000/9776648.stm

Wrecked infrastructure, a brutalised people, a nation dependant on aid; those were the legacies of three decades of instability and civil war in Liberia.
Since she came to power in 2006, the president, Ellen Johnson Sirleaf, has brought stability and rapid economic growth, but her country faces a dilemma on the involvement of foreign multinationals in the country.
They bring cash and help the country exploit its natural resources but the President has been accused of going too far in signing away the country's natural resources to foreign companies.
The campaign group Global Witness claims 60% of Liberia's rainforests have been sold and Oxfam says nearly a third of Liberia has been swallowed up by land deals.
There is a particular concern for subsistence farmers who have been living off the land leased to foreign companies.
From a a palm oil plantation run by a Malaysian company, Sime Darby, the Today programme's Evan Davis looked into whether these lands deals are a route into better life, or a signing away of the nation's wealth.