Bloomberg | 5 December 2012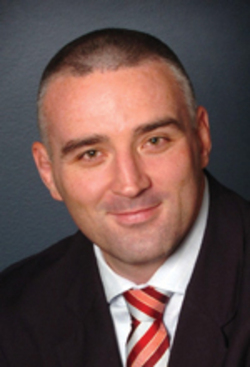 Tim Hornibrook of Macquarie Agricultural Funds Management.
Agricultural land represents an $8.4 trillion market, of which institutional investors own about $30 billion to $40 billion, according to Macquarie Agricultural
Funds Management.
Farmland has attracted "very little" institutional capital, said Sydney-based Tim Hornibrook, an executive director and co-head of the fund that manages 3.6 million hectares (8.89 million acres) of farmland. Agricultural land for investment is
valued at $1 trillion, according to the fund, which has more than A$1 billion ($1.05 billion) in the industry.
"There is a lot of interest in agriculture," Hornibrook said in an interview in London yesterday. "There is no silver bullet on the horizon to bridge the productivity gap."
Global food production will need to rise 70 percent to feed additional 2 billion people on the planet, the World Bank estimates. This year food prices came within 10 percent of the record set in February 2011, according to the United Nations Food Price Index.
"There is a perception that billions of dollars are flowing into agriculture, but it's not quite the reality," Hornibrook said. "It's a 10,000-year-old sector that is only
just being discovered by institutions."
Timber has attracted $60 billion of institutional money, or almost double that of agriculture, as governments and mills sold "sizable" assets, he said. The lumber market is valued at $425 billion, according to Hornibrook.
In agriculture, it's impossible to find assets "that would absorb hundreds of millions of dollars," and aggregating farms brings "institutional challenges," he said.
Investors are looking for low political risks in farm investments as they need to get used to agriculture risks first,
Hornibrook said. This narrows attractive farmland to a "small universe," he said.
Macquarie Agricultural Funds Management has farms in Australia and Brazil producing goods ranging from grains to sheep to wool and almonds.
To contact the reporter on this story: Maria Kolesnikova in London at
[email protected]
To contact the editor responsible for this story: Claudia Carpenter at
[email protected]