Reuters | 23 October 2012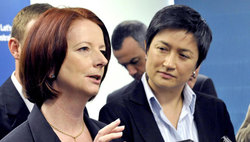 Australian Prime Minister Julia Gillard
(Reuters) - Australia will set up a foreign-ownership register for farm lands, Prime Minister Julia Gillard said on Tuesday, as the government moves to ease public concern over foreign buyers in the agriculture sector, particularly Chinese.
The announcement comes as foreign investors increasingly target Australian agricultural assets to tap booming global demand for food, sparking a political debate and concerns Australia is selling off its future food security.
The latest interest in Australia's agriculture sector came from U.S. agriculture giant Archer Daniels Midland (ADM.N), which on Monday proposed to take over Australia's grains handler GrainCorp (GNC.AX) for $2.8 billion.
In August, Australia approved Chinese textile group Shandong Ruyi's purchase of Cubbie Station, which covers almost 1,000 sq km (390 sq miles) of south-western Queensland, sparking a new debate about levels of Chinese investment into Australian farms.
Another Chinese company, Shanghai Zhongfu Group is bidding for a 58-sq-mile (15,000-hectare) farming project in Kimberley, Western Australia with plans to develop agriculture business.
Gillard told a national farm conference that foreign investment was important for the country's farm sector, which exports around A$30 billion ($31 billion) worth of food each year and which is a major global supplier of wheat and beef.
Australia is targeting more food exports to the booming Asian markets, particularly China and India.
"The register will provide the community with a more comprehensive picture of the specific size and locations of foreign agricultural landholdings over and above what is currently available," Gillard said.
The U.N. Food and Agriculture Organisation has said global food production will need to increase 70 percent by 2050 to meet demand.
Foreign investment has been a key part of Australian agriculture for more than 100 years, but official data on foreign owners of farms is patchy, with only one state holding a register and with small purchases by private investors not subject to national foreign investment approvals.
Gillard said existing data showed foreign investment in agriculture, fisheries and forestry accounted for just 0.1 percent of foreign investment in Australia.
She said 89 percent of farm land was wholly Australian owned, and a further 6 percent was majority Australian owned, which was similar to ownership levels 30 years ago.
The peak farmers group the National Farmers' Federation said the ownership register was crucial for Australia.
"We do want to see greater transparency around investment to ensure that the motivations behind this investment are clear," Federation president Jock Laurie said.
($1 = 0.9689 Australian dollars)
(Reporting by Maggie Lu Yueyang; Editing by Michael Perry)