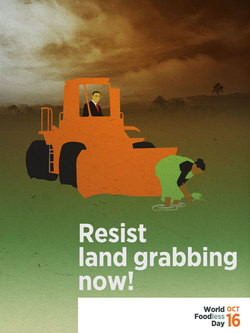 PANAP Press Release | 2 October 2012
Landgrabbing worsens hunger: Communities resisting land grabs to commemorate 'World Foodless Day'
Pesticide Action Network Asia and the Pacific (PAN AP) and its partner communities will commemorate this year's 'World Foodless Day' on October 16 through a coordinated campaign against landgrabbing, a widespread phenomenon that is believed to be a major factor in aggravating existing conditions of poverty and hunger across the region.
Data shows that despite positive economic indicators heralded by many countries in Asia, the number of hungry and malnourished are continuously climbing. According to the Food and Agriculture Organization, 925 million people are hungry and malnourished around the globe. Around 578 million of them are in Asia, with women and children as the most vulnerable.
"This month, the Committee on Food Security (CFS), a multi-stakeholder process involving governments, intergovernmental agencies, CSOs, and private sector actors will once again tackle the issue of hunger and malnutrition in its 39th session. Key policy discussions on social protection, climate change and the Global Strategic Framework will be hotly debated. The CFS will also start a process of consultations on drafting a new guideline on responsible agricultural investments. We will bring to the fore the voices of small food producers in the CFS and in the consultations, particularly those who are being driven away from their lands by large-scale investments in agriculture," said Sarojeni Rengam, PAN AP executive director.
The latest data by the international NGO GRAIN has recorded hundreds of cases of large-scale agricultural investments all over the world, encompassing 227 million hectares of land since 2001. These land grabs have already caused or will cause the displacement of entire populations. In Asia, there are cases of massive land grabbing in Cambodia, Sri Lanka, Pakistan, Philippines, India, Malaysia, Papua New Guinea, Laos and Indonesia. In Laos alone, almost half or 43% of farmlands are already controlled by foreign corporations.
Neo-liberal policies promoted by Multilateral Agencies and financial institutions have encouraged large-scale foreign investments in export food production, palm oil and biofuel production, timber plantations, special economic zones, and tourism—both as a food supply strategy by import-dependent countries and as a renewed source of profits by the industry. These approaches and policies have failed small food producers, who are losing their livelihoods, becoming indebted and systematically displaced.
In Indonesia, almost 300,000 hectares of forest land has been acquired by foreign corporations and are being turned into sugar cane or palm oil plantations, with thousands of peasants losing lands that they have tilled for decades. "The loss of our food sovereignty is caused by policies on trade liberalisation and the monopoly of vast areas of land," said Rahmat Ajiguna, secretary general of Alliansi Gerakan Reforma Agraria (AGRA).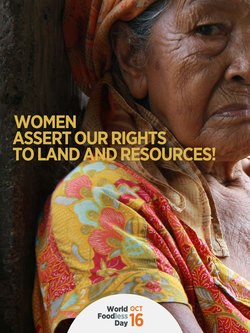 But communities have learned to fight back. On January 2012, thousands of peasants mobilised in front of the Presidential Palace and Parliament, resulting to a special legislative committee to address agrarian conflict. "Peasants organise, reclaim lands that have been grabbed, and file suits against government policies that support land monopoly and landgrabbing," Ajiguna said.
Meanwhile, in Sri Lanka, peasants and fisherfolks are forcibly evicted from their lands and fishing grounds by plantation and tourism projects. "As a response, we are going to hold actions in the district, national, regional, and global levels. These will include conferences, signature petitions, street drama, prayers, dialogues, and mobilisations," said Herman Kumara, national convenor of the National Fisheries Solidarity Movement (NAFSO).
Meanwhile, the trade union and peasant group Andhra Pradesh Vyavasaya Vruthidarula Union (APVVU) in India will organise simultaneous processions opposing landgrabbing in 10 districts of Andhra Pradesh, while a People's Biodiversity Camp will be held in Hyderabad. Among the large-scale investments to be opposed are the contruction of geothermal plants and 'corridors of industry' on agricultural wetlands, the source of food and livelihood of communities. "The state government should stop landgrabbing for corporations in the name of development. All the land that was grabbed should be handed over to the landless rural poor," said Poguri Chennaiah, APVVU secretary general.
Similar actions will be held by partner organisations in Indonesia, Pakistan, and the Philippines from October 1-16, as communities prepare to bring to global attention the often neglected issue of landgrabbing, which affects the majority of the world's hungry and poor.
PAN AP also launched a webpage (
www.panap.net/wfd
) that includes updates and a countdown towards 'World Foodless Day.' The webpage contains an impressive interactive map that gives extensive information on landgrabbing cases in Asia, including the names of companies involved, the profile of affected communities, and the people's response and resistance.
"Our demand is to stop these large-scale agricultural investments in order to curb world hunger and malnutrition. Do not deprive access to lands, seas, and other productive resources to people who have been their custodians and who have fed their nations for generations. Stop landgrabbing, uphold people's food sovereignty and implement genuine agrarian, forest and fisheries reform!" Rengam concluded.###
For more information, contact:
Virgilio Tamayao Jr.
E-mail (direct):
[email protected]
Pesticide Action Network Asia and the Pacific
P.O. Box 1170, 10850 Penang
Malaysia
Tel: +604-6570271 or +604-6560381 | Fax: +604-6583960
E-mail:
[email protected]
Website: www.panap.net
Like us on: www.facebook.com/panasiapacific