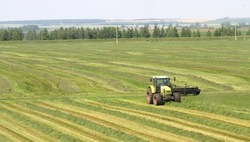 Public-private partnership program envisions letting investors farm up to 4 million hectares of currently unused government land for up to 50 years in large-scale 400,000-hectare projects.
Kyiv Post | 27 September 2012
by Mark Rachkevych
Ukraine's government says it has found a solution for doing its part to address food security in a world that will need to produce 1 billion tons more cereal and 270 million tons more meat annually to feed 9 billion mouths by 2050.
The Kyiv Post has obtained a blueprint that outlines a bold agricultural production sharing plan that the government plans to roll out to investors. It at once addresses rising global demand for food, as well as rural Ukraine's dire economic state that suffers from unemployment and infrastructural decay.
Essentially the plan will "intensively develop the agrarian sector without privatizing farmland" while bringing badly needed investment and modern technology, which in turn will "create sustainable rural jobs," a government source close to the plan said on condition of anonymity because the plan isn't official yet.
Although in the conceptual stage, the public-private partnership program envisions letting investors farm up to 4 million hectares of currently unused government land for up to 50 years in large-scale 400,000-hectare projects. The government source said each project would require an initial investment of $200 million, and much more down the road.
Not all the government land earmarked for cultivation is zoned as agricultural so the program wouldn't presumably significantly encroach on the 32.5 million hectares of farmland that the country has.
Together, this would allow investors to reap from economies of scale by using modern land management practices and equipment such as, GPS monitoring, satellite imagery, as well as other up-to-date farming techniques to boost production.
Incentives include giving investors tax breaks, free land use, and exempts them from having to pay import duties and value-added tax on imported goods, labor and services. In addition, there'll be no export duties, licenses and quotas, and investors won't have to pay taxes for repatriating profits or income.
"This is just what the government of Ukraine needs to do," said Morgan Williams, president of the U.S.-Ukraine Business Council based in Washington, D.C. . "It solves many major problems with the usage of government land and gets it into private hands and provides proper incentives…and produces income for the government. It would be a major breakthrough, a major step forward and a very positive signal the private sector."
Investors will do contractual business exclusively with the national government, not with local administrations. And the plan foresees international arbitration should disputes arise.
Williams continued: "One, the government lands would be taken out of the control of local and mostly corrupt politicians; two, there would be long-run contracts which are good for investors, good to promote infrastructure investment and good for long-run strategic buyers of commodities; three, these would be contracts under a PSA [production sharing agreement]-type plan which could be taken to international court."
Estimates vary, but up to 25 percent of Ukraine's arable land is only farmed by so called efficiency farms that lease more than 50,000 hectares. And they are the ones driving productivity and yields. Investment bank Concorde Capital said in a recent agriculture report that the sector as a whole suffers from poor land management practices, lower application of fertilizers, and depreciated farming machinery that harm yields.
Experts furthermore estimate that up 5 million hectares of arable land lies fallow and unused.
And although there are many government ideas floating around on how to optimize Ukraine's still hugely unfulfilled agricultural potential of doubling harvests to above 100 million tons of grain and oil seeds, questions linger about their proper execution.
"I've heard about this (plan)," said John Shmorhun, CEO of Harmelia, a 75,000-hectare grain farming business in Kharkiv Oblast. "An agricultural PSA would be unique in the world…the government is treating land as a renewable resource… (which is) a powerful instrument if managed properly. And, if the government manages to do this right it'll be quite a coup."
To qualify, however, investors will have to compete globally through what the governments says will be a one-stop shop run by an inter-governmental agency committee which will decide who qualifies for the project.
Preference will be given to investors who meet the following criteria: an optimal business strategy, quality of production distribution proposal, sustainable land productivity, agricultural experience, financial capacity and best combination of international know-how and Ukraine experience.
But the plan overall thus far lacks in specifics, and much remains to get the project off the ground.
However, the government source the Kyiv Post spoke with said that an agricultural PSA bill could get adopted as early as mid-October, giving the endeavor solid legislative footing. The plan also skirts Ukraine's snail pace action on creating a land market. Currently agricultural land can't be bought or sold but government will allow investors to use land for 50 years without addressing the issue of privatization.
Again, "the problem is execution, and how these (public sharing) agreements will be properly executed, so this wait and see …its' also about government lands and how they're clustered, the land cadastre has to be completed…accurately," said Shmorhun.
Whatever the shape and size of land, the potential is still there, said Shmorhun. "Whether it's agricultural or pasture land, you can do a lot, you could grow crops of all sorts of different sorts of operations…there's dairy production, pig farming, greenhouse vegetables, fruits, orchards and berries – there's room for renewal in so many sectors."
Kyiv Post staff writer Mark Rachkevych can be reached at [email protected]