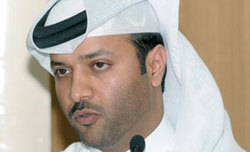 Al-Kaabi speaking to the media yesterday (Gulf Times)
Gulf Times | 7.9.2012
Mawashi puts greater focus on food security
Mawashi, Qatar's livestock company, plans to invest in industrial agriculture and food sources outside Qatar to serve the vision and objectives of the Qatar National Food Security Programme, it was announced yesterday.
Speaking to mediapersons after disclosing the company's first half financial results, managing director and CEO Ahmad Nasser Sraiya al-Kaabi said the strategy also included investing in value-added food manufacturing chains and renewable energy industry processes in order to support the country's food security endeavours.
The company has expanded beyond Qatar with branches in Sudan alongside worldwide deals that bring to the market the best quality meat and livestock by land, sea and air, he said.
"Mawashi is currently moving towards an increased focus on food security that goes well beyond trading in meat and livestock and, to that effect, is planning to establish a home-grown, cutting-edge food manufacturing plant and to tap into the dairies industry."
The company has achieved good financial results in the first half of 2012. Al-Kaabi said Mawashi had registered continued year to year growth with net profits reaching QR41.70mn during the first half of 2012, up from QR18.50mn over the same period in 2011.
He said: "Our outstanding figures strongly highlight our steadfast commitment to provide the highest quality products and services. These results are owing to our team's unfaltering efforts to bring forth unmatched standards of professionalism with global best practices and processes linked to our deep-rooted understanding of market and customer needs. As a matter of fact, our achievements have been accentuated with the latest accolade Mawashi has won in June of this year in Paris, France, an award that recognises world-class quality management across the board."
Mawashi was recognised at the 16th International Star for Quality in Leadership Convention in France in June 2012 adding another title to four recognitions from MLA Australia for Quality Management, and attesting to the company's business success and solid contribution to the local and regional food industry by being the "guardian" of food safety and public health.
These successes are owing to the efforts, the innovations and the ethics of Mawashi's team of experts from across the globe who have come together to introduce radical changes to the company through international standards in food quality, hygiene, technology and security alongside digital, state-of-the-art consumer and business services.
On the financial front, al-Kaabi also said that the company witnessed a QR2.32 return on its stock price up from QR 1.03 registered in the first half of 2011 and representing, thus, an increase of 125%; that's in addition to a 38% rise in sales. Mawashi's profits were 100% operational.
Al-Kaabi added that Mawashi would continue with its ambitious expansion plans in order to achieve maximum return on stock price by putting to use its entire capabilities and resources before end of 2012 in order to be ready to cater to the growing market needs and demands by the beginning of 2013.
---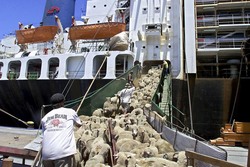 Gulf Times | 7.9.2012
Mawashi studies building abattoir in Australia
By Ayman Adly/Staff Report

Mawashi pursues the best investments in livestock around the world, in particular Australia, because of the logistics and excellent animal wealth available in that country, a top official of the Qatari livestock company yesterday said.
The livestock company is also studying the prospects of building a sophisticated slaughterhouse in Australia, either as a joint venture or otherwise. This would be
highly instrumental in enhancing the supply of Australian mutton to the local market
. External investments include potential acquisition of farmlands and livestock in Sudan.
Nasser Sraiya al-Kaabi, managing director and CEO of Mawashi, said at a media meeting yesterday that the Australian market is the best regarding its standards for a healthy supply chain. He also pointed out that Mawashi conducts careful studies before launching any related projects. "For example there was a study to establish a leather factory in Qatar but because of the damaging and hazardous environmental consequences involved , the project was immediately halted. Yet, the company has continued to export leather out of its slaughter houses."
"We are looking for projects to cover the Qatari market, and then we would consider expanding abroad and export," he said.
However, he did not see the company taking over any project or raising livestock locally because of the related logistic difficulties and unfeasible economic outcome. The company only focuses on meat supply and in future, there are plans to supply not only red meat but white and fish meat as well besides other types. There is also a study to set up a plant for different meat products.
He explained that Mawashi's field of interest is different from that of Hassad Food Company. In fact, he said, both companies complement each other, with Mawashi's main focus on meat products.
Al-Kaabi stressed that locally subsidised Australian sheep meat would continue to be sold at the same rates for the time being and there are no plans to raise prices though the demand is high.
Dr Mohamed Abulhamid, director of health and quality department at Mawashi, said that the company's automated slaughterhouse has finalised the necessary requirements for acquiring the international accreditation for quality ISO2200-2005. These include technical and administrative standard requirements.
He pointed out that the facility applies the best hygienic practices worldwide in a high quality sanitation programme, which implements both the wellbeing of the environment and the quality of the product. "The health of consumers is of utmost priority as per the company's policy. The company employs a satellite tracking system to monitor the journey of the product-laden vehicles from the slaughter houses to their target destination."