This Day | 6 September 2012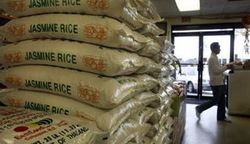 Nigeria's Sokoto State Government and Novel Management Services of Switzerland have signed a N35 billion deal for a rice project covering 25,000 ha of land in the River Rima basin.

by Mohammed Aminu
Sokoto State Government has signed a Memorandum of Understanding (MoU) with Novel Management Services of Switzerland for the production, processing and marketing of rice with an estimated cost of over N35 billion.
Speaking at the recent signing ceremony in Sokoto, the state Commissioner of Agriculture, Dr. Jabbi Kilgori, said the project targets to produce about 200,000 tonnes of milled rice annually.
Kilgori maintained that the project, when executed, would create over 10,000 jobs. He explained that the project was meant to utilise the vast fertile FADAMA lands in the state for large scale production of rice, in line with the national agricultural transformation agenda.
He said Novel Management Services would source for development funds and provide the desired technical and managerial expertise for designing and implementation of project.
The commissioner pointed out that the state government is to provide 25,000 hectares of land for the project. He stated that a joint venture company, Sonovel Rice Limited, with equitable share holding, had been incorporated for the implementation of the project to be sited within the River Rima basin.
Kilgori added that the project would involve a nucleus farm and an out-grower seed multiplication and production system for rice production as a well as a 40 tonne per hour rice milling facility among others.
In a remark, the Managing Director of Novel Management Services, Mr. Djack Kane, assured that the company would fulfill its obligations in the partnership.