AFP | 19 July 2012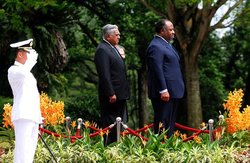 Ali Bongo Ondimba, President of Gabon, in Singapore for the signing of the palm oil plantation deal with Olam, November 2010.
Singapore's Olam group said Wednesday it had signed a deal to borrow $228 million (186 million euros) of the more than $800 million it has pledged to invest in a new palm oil operation in Gabon.
Olam, a commodities trader and global supplier of agricultural products, said it would borrow the money from the Development Bank of Central African States (BDEAC) and a consortium of other lenders including Gabon's BGFIBank, the African Export-Import Bank and African banking group Ecobank.

The deal "represents an essential piece of the partnership established between Olam and the Republic of Gabon," the company's Gabon representative Gagan Gupta said in a statement.

Olam signed a contract with Gabon in mid-August to invest more than $800 million to develop a palm oil operation in the centre and south of the country.