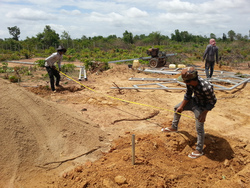 (http://stevianutra.com/photos/)
Business Wire | July 12, 2012
Stevia Nutra signs strategic agreement with Agro-Development Company
PHNOM PENH, Cambodia--(BUSINESS WIRE)--Stevia Nutra Corporation (The Company), an Agro-Management company focused on stevia agronomics, announced today that it has entered into a "Services Provision Agreement" with Ecologica Co. Ltd, a local Cambodian agro-development company.
"Ecologica is excited to be joining Stevia Nutra's team as we develop Cambodia's first commercial stevia propagation and cultivation operation"
Ecologica's extensive experience in developing and operating agro-forestry plantations and projects makes it an ideal local partner for the Company. In addition, Mr. David Foo, Ecologica's Chief Operating Officer has joined Stevia Nutra as VP Operations - Southeast Asia.
"Given Ecologica's extensive agro-forestry experience, their senior management understands the challenges agro-developers face when embarking on a new cultivation operation in Cambodia," says Company President, Brian Dicks. "As our local partner, they will provide valuable support to ensure effective and efficient deployment of the Company's financial and human resources as the project advances."
The scope of the agreement includes Ecologica being responsible for providing local management, logistical expertise and administrative support for a range of core functions which include:
Staffing of senior managers, plantation managers and supervisors, and agro-laborers
Administration, payroll and accounting services
Procurement, contractor/contract management and control
Local, regional and national government relations and liaison as required with specific jurisdictions, departments and ministries including agro-research stations and institutes
Ecologica's broad network is also expected to provide the Company with the opportunity to forge relationships with its sister companies that operate in the fields of environmental assessments, engineering services, shipping and logistics services for import-export requirements, infrastructure project development and management and local transportation services. The Company believes that this unique association with Ecologica will permit it to rapidly and effectively accelerate operations on the ground and avoid unnecessary cost consuming overhead.
"Ecologica is excited to be joining Stevia Nutra's team as we develop Cambodia's first commercial stevia propagation and cultivation operation," says David Foo, the Company's VP of Operations and Ecologica's COO. "Our collective knowledge and experience is the key to our success. Cambodia has the perfect combination of land, climate and focus on the agri-business sector to successfully develop and expand stevia plantations."
Stevia Nutra:
Stevia Nutra is an Agro-Management company focused on stevia agronomics which includes plant breeding, proprietary agricultural practices and post-harvest techniques. Stevia Nutra intends to invest heavily in R&D and IP acquisition and manage large-scale plantations for the production of high value stevia products.
Stevia Nutra is dedicated to utilizing best agronomic and business practices to demonstrate the sustainability and profitability of stevia production. By subscribing to, and implementing the performance standards published by the World Bank, Stevia Nutra is committed to becoming the premier producer of the highest quality stevia. Stevia Nutra recognizes the potential this remarkable plant has to reduce the global epidemic of obesity and diabetes and promote general good health. The Company's priority will be to embrace sustainability, innovation to promote profitable growth.
Stevia and the stevia sector
Stevia is the world's only all natural zero calorie sweetener. Since being approved by the United States Food and Drug Administration late in 2008, and the EU in late 2011, stevia can now be found in over 6,000 food, beverage and medicine products, with many more new products to follow as global consumers are making healthier food choices.
Stevia is the fastest growing sweetener product in the world. The World Health Organization estimates that stevia will replace up to 20% of the global sweetener market valued at over $USD 10 Billion. Zenith International expects that stevia agriculture production will have to triple within two years to keep up with the strong demand. Only one year after FDA approval in the U.S., stevia sales surged past both aspartame and saccharin in the tabletop sugar market.
Further information on the Company can be found at www.sec.gov and the company's website at www.stevianutra.com.