Market Watch | 8 June 2012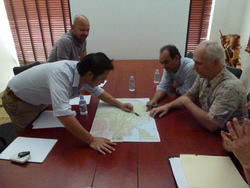 Stevia Nutra
representatives identifying land acquisitions with David Foo at the offices of Ecologica
PHNOM PENH, Cambodia, Jun 08, 2012 (BUSINESS WIRE) --
Stevia Nutra
Corporation -- (The Company), an Agro-Management company focused on stevia agronomics is pleased to announce that it has successfully acquired 50 acres of prime agricultural land in Cambodia for its new innovative Stevia Propagation Centre (SPC).
The property is located just outside the town of Kampong Speu, in close proximity to the country's capital city and commercial hub of Phnom Penh, and the coastal port of Sihanoukville. This advantageous location is expected to provide the Company with lucrative import and export opportunities, enabling it to capitalize on the explosive demand for this all-natural, zero calorie sweetener. From this location, all cultivation and research and development activities will be coordinated to support the planned expansion to 5,000 acres.
"We are thrilled to have secured this exceptional site for our Southeast Asia Stevia Propagation Centre," said President Brian Dicks. "We chose Cambodia as the hub of our operations based on its ideal climate, our relationships in the region, the proximity to markets and the strong local support for agro development projects."
"The land is perfect for stevia growth," said Chief Agronomist Dr. El-Sheikh. "I have been working on stevia cultivation and propagation for the past 17 years and I have not encountered such optimal conditions. Our access to clean ground-water and facilities make this particular location ideal for our Stevia Propagation Centre."
---
Stevia Nutra establishes major cambodian agriculture company
May 24th, 2012

Phnom Penh, Cambodia – May 25, 2012 – Stevia Nutra Corporation (OTC:BB STNT)– (The Company), an Agro-Management company focused on stevia agronomics, is pleased to announce that it has incorporated Health Power Trading Company Ltd., a wholly owned BVI subsidiary company and Mighty Mekong Agro Industries Co. Ltd., a Cambodian based wholly owned subsidiary.
This strategic move by Stevia Nutra will allow the Company to capitalize on significant labour and technical advantages as well as provide access to prime fertile lands in pursuing stevia agriculture, cultivation and processing in Cambodia and potentially elsewhere in the Mekong River Sub-Region, an area which is ideal for the growth of stevia plants.
With access to clean water and transport routes, this innovative plantation model will allow the Company to reduce labour costs and consistently deliver high quality Stevia leaf from a single site. This is in stark contrast to traditional growers and contract farmers that most of the sector currently employs. In addition, due to favourable climatic conditions, the company expects to enjoy multiple harvests per year, which will significantly increase the annual yields of stevia leaf per hectare.
"With soaring demand for stevia and stevia products globally, the addition of these companies will be significant to our operations in Cambodia," said President, Brian Dicks. "We will be in a position to capitalise on the optimal growing and production conditions the country has to offer, resulting in superior quality and increased yields.
Mr. Dicks goes on to state, "it is because of Cambodia's long growing season, climate, eager agro-labour market and strong support from the Cambodian Government at all levels for new agro investments that we made our decision to designate Cambodia the Company's technical and cultivation hub. All of these factors taken together will give us a solid competitive advantage in the stevia sector and ultimately enhance shareholder value."