ABC | 1 June 2012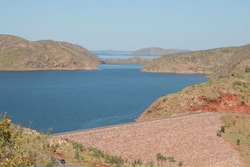 The Ord River area is home to some of Australia's most prized agricultural land. (Photo: ABC)
Trade Minister Craig Emerson has rejected claims his support for Chinese investment in northern Australia has been influenced by the reported business interests of former Labor prime minister Bob Hawke.
The Government wants China to invest in land in northern Australia, as part of a deal to increase food exports.
There are unconfirmed reports Mr Hawke is representing a Shanghai-based company wanting to farm all 15,000 hectares of the land being developed as part of the second stage of the Ord irrigation project in Western Australia.
The Ord River area is home to some of Australia's most prized agricultural land and is one of the sites up for consideration, as is the Atherton Tableland in Queensland.
Nationals Senator Barnaby Joyce used an estimates hearing on Thursday night to claim that Mr Hawke's interests have influenced Dr Emerson.
But the Trade Minister rejected the claims, labelling them "typical gutter politics".
Dr Emerson has previously stated the proposal was designed to lift food production for world markets.
A joint study with the Chinese government into the proposal is expected to be released within months.
Senator Joyce says he has no problems with boosting Australia's foreign food exports but he says greater efforts should be made to ensure Australians own as much farming land as possible.
He says policies are needed to ensure farming land is purchased by Australians before foreigners.
"In our national interest, we should be getting the biggest footprint on our own country developing our own food for sale to the world," he said.
"What we're seeing with this is basically mechanisms for another nation to get their footprint on our land.
"Good luck to them. It's a very smart thing to do and it secures their food future and they're saying exactly that."
--

Stock & Land | 1 June 2012

by BRAD COOPER
EXTREME weather, poor soil and a lack of infrastructure would severely curtail any chance of converting northern Australia into China's food bowl, say Northern Territory cattle producers.
The Northern Territory Cattlemen's Association executive officer, Luke Bowen, branded it a ''ridiculous'' notion yesterday.
Mr Bowen responded to details of a plan revealed by the Australian government to lure billions in Chinese investment dollars to open up farm land across northern Western Australia, Queensland and the Northern Territory to help feed China's population - 1.3 billion and growing.
News of the joint study with China comes just weeks after Australia signed a free trade agreement with Malaysia, worth an estimated $1 billion in Australian agricultural exports. Talks continue to complete trade agreements with South Korea, Japan, China and Indonesia.
China, according to Meat and Livestock Australia's Asian regional manager, Aaron Iori, is regarded as the next golden opportunity for Australian chilled beef exports, especially for premium cuts as China's top income earners far outnumber the total population of Australia. Consumption of beef in China was currently 4 kilograms per capita - a low base with room for growth as the newly affluent seek to increase their protein intake beyond the staples of pork and chicken.
But Mr Bowen said: ''Contrary to popular belief, we don't have large tracts of untapped farmland and we work with restrictive vegetation-management regulations, many of which are supported by the federal government, that would make any opening up of undeveloped land and intensifying of current production extremely difficult. There is also extreme weather, pests and lack of roads and other infrastructure and facilities that makes this a very challenging environment.''
The executive officer of Western Australia's Pastoralists and Graziers Association, Ian Randles, said the government's natural heritage listing for the Kimberley region and the Environmental Protection and Biodiversity Conservation Act would present large hurdles for any foreign buyers.
Mr Randles said: ''There is definitely land up there suitable for a huge diversity of crops but the federal government's own legislation is so difficult to work with I'd say that once any potential buyer sees this they'd run a mile.''