Agrimoney.com | 29 May 2012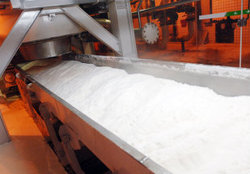 The UAP mill sources 75% of its sugar from farms that it leases or has supply contracts with.
Olam International extended the rush of trading houses into Brazilian sugar with a $240m investment as part of a two-pronged strategy for exploiting the world market in the sweetener.
The Singapore-based trading house paid R$255m ($129m) to acquire the Usina Açucareira Passos (UAP) mill, in which it pledged to invest a further $111.5m in the next five years to boost both cane growing and producing capacity.
The investment is the latest in a series by big agricultural trading houses into Brazil's Centre South – the main sugar producing region in the world's top sugar producing, and exporting, country.
France's Louis Dreyfus, US-based Bunge and Singapore's Noble Group have also invested in Brazilian sugar, with interest in cane ethanol extending too to the likes of Anglo-Dutch oil giant shell.
Sugar plan
Olam, whose interests extend from cashews to cocoa, has hitherto been restricted in sugar to India, where it operates two mills, and Indonesia, where it runs a refinery, although it is set to open a further refinery Nigeria.
The group's entrance in sugar into Brazil, "one of the most cost-competitive producers of sugar in the world", whose exports dwarf those even of second-ranked shipper Thailand, "is integral to executing" Olam's sugar strategy, company sugar president Devashish Chaubey said.
This plan revolves in part around building milling assets in large sugar producing countries "that have a comparative cost advantage", Olam said.
The UAP acquisition "is therefore consistent with this strategy given the country's central role and economics in the global sugar market".
'High economic rents'
The strategy also means expanding refining capacity, to turn raw sugar into white sugar, in large consuming and importing countries "with regulated, structurally-inefficient markets that offer the potential to extract high economic rents".
Indonesia will be the fourth-ranked sugar importer in 2012-13, with purchases of 2.975m tonnes, behind China, the European Union and the US, according to the International Sugar Organization.
Nigeria will import 1.175m tonnes, making it Africa's second-ranked buyer, behind Algeria, but ahead of Egypt.
'Well placed'
Olam, which already has substantial coffee and cotton operations in Brazil, said that its investment in UAP would extend cane processing capacity to 3.0m tonnes a year, from 1.75m tonnes.
The mill, which currently has sugar production capacity of 200,000 tonnes a year, will also produce more of its own cane, for which it currently relies for 25% on external suppliers.
Olam also highlighted UAP's "proximity" to export facilities, standing some 480km from the major port of Santos, besides being "well placed" to serve Brazil's own market.
The announcement followed the closure of Singapore's stockmarket, where Olam shares closed up 1.8% at Sing$1.695.