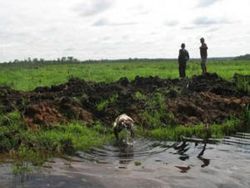 Meruake Food Estate project is destroing the peat swamps, say communities (Photo courtest of
KpSHK
)
UPI | May 23, 2012
U.N. worried by land use in Asia
GENEVA, Switzerland, May 23 (UPI) -- Intensive use of land for food exports and biofuel production must not come at the expense of human rights in Southeast Asia, the United Nations warned.
A panel of U.N. special envoys on food and indigenous people expressed concern that a program to convert at least 1 million hectares of rainforest into biofuel and export-driven crop production could impact the food security of some 50,000 people in the Meruake region of Indonesia.
Meanwhile, another 45,000 people are at risk because of the conversion of 3,000 hectares of land in the Isabela region of the Philippines for sugar cane for biofuels.
The panel said new economic opportunities for regional economies shouldn't put local populations at risk.
"Governments must not be seduced by the promises of developers when assessing large-scale land acquisitions for export-led crops and agrofuel production," Olivier De Schutter, U.N. special envoy on the right to food, and James Anaya, U.N. special envoy on the rights of indigenous peoples, said in a joint statement.
► Read the full report at http://www.srfood.org/index.php/en/component/content/article/1-latest-news/2263-south-east-asia-agrofuel-un-rights-experts-raise-alarm-on-land-development-mega-projects-