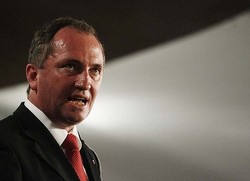 "Senator Joyce said the review board should have rejected the takeover of the AWB's commodity trading business by the multinational Cargill, and of Sunrice by the Spanish company Ebro Foods, which was ultimately scuttled by shareholders". Photo: Stefan Postles
Sydney Morning Herald | March 16, 2012
Barnaby Joyce breaks ranks over foreign ownership of farmland
THE Nationals senator Barnaby Joyce is pushing for even tougher restrictions on foreign ownership of farmland and agribusinesses than those advocated by his party, fuelling Liberal anger at Tony Abbott's failure to rein in National Party ''freelancing'' on sensitive economic issues.
Senator Joyce told the Herald a Coalition government should impose a ''much more definitive test'' of the national interest when the Foreign Investment Review Board considered foreign purchases of farmland and agribusinesses. ''There has to be a more definitive test … because right now we are not tripping the tripwire for things that are quite obviously against the national interest,'' he said.
Senator Joyce said the review board should have rejected the takeover of the AWB's commodity trading business by the multinational Cargill, and of Sunrice by the Spanish company Ebro Foods, which was ultimately scuttled by shareholders.
Citing ''palpable'' concern in rural communities about foreign acquisitions, Senator Joyce advocated a shake-up of the review board to include people with agribusiness expertise.
''It's full of merchant bankers, which might explain why the only time we have seen it say no is with the takeover of the Australian Stock Exchange, because that would have meant a lot of merchant bankers in Sydney would be out of a job … even some of my Liberal colleagues were encouraging me to speak up about that, even though we are supposed to be nasty, backward agrarian socialists,'' he said.
The Nationals leader, Warren Truss, has advocated lowering the threshold for review board scrutiny from $244 million to $20 million but has not specifically suggested the board use a tougher national interest test.
Last week Mr Abbott, the Coalition leader, appeared to back Mr Truss's position, saying he was ''looking at a very significant reduction in the threshold'' for scrutiny by the review board.
He did not nominate a new threshold.
Many Liberals, opposed to any big change in foreign investment rules, are furious at apparent policy announcements before decisions have been made.
One Liberal MP said it was ''yet another example of National Party freelancing on economic issues, without clear repudiation from the leadership, despite the fact that there has not been a decision and the party room has not yet discussed it''.
Another said: ''The Nats are being allowed to say whatever they like, even though it is not policy.''
According to a policy options document seen by the Herald, prepared for an internal Coalition committee on the issue chaired by Mr Truss, the only firm decision so far is to establish a register of agricultural land acquisitions.
The committee had not yet decided what size transaction should trigger board scrutiny but said "food security" would be the rationale for a lower trigger for agricultural acquisitions.
Citing the controversy over the acquisition of Victorian land by the Qatari sovereign wealth fund Hassad Foods and of NSW land by Shenhua Watermark Coal, the paper canvassed the option of defining all agribusiness acquisitions as "sensitive" and automatically triggering board involvement. It said this had not been finally decided.
Liberal MPs are happy to establish a land register and increase review board transparency but oppose any big changes to its decision making.
The Trade Minister, Craig Emerson, who has accused the Coalition of a "xenophobic scare campaign", yesterday released a "reworking" of a recent report by the Australian Bureau of Agricultural and Resource Economics and Sciences which found that since 1984 farmland fully or partly foreign owned had almost doubled to 11.3 per cent.
He said the real increase was minuscule, from 5.8 to 6 per cent. A Senate committee on the national interest test will report in June.