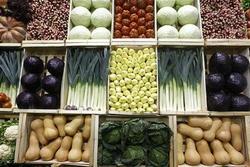 The rise in the exchange traded funds focused on specific commodities comes alongside strong interest in a number of farmland investment funds
Reuters | Fri Mar 9, 2012
Investment niche expands in agricultural commods
By Carey Gillam
March 9 - Wall Street has found its place on the farm. Prospects for profits tied to increasing food production are driving a proliferation of new niche investment vehicles focused on agriculture.
Agricultural commodities exchange traded funds (ETF) are on the rise, with 11 new funds added last year alone.
While the total value of assets under management in these agriculture-focused funds has remained fairly steady over the last few years at between $3 billion and $4 billion, the sector has grown to include 27 unique funds that focus on everything from cocoa to cotton, according to Tom Roseen, head of research services for Lipper.
Lipper supplies mutual fund analysis and information and is owned by Thomson Reuters.
The rush of new vehicles in 2011 came after only one fund in this category started up in 2010 and none in 2009. It exceeds the 10 new ones seen in 2008, marking a record proliferation.
"If people want to have very focused funds, they can get into it this way," said Roseen. "People who want to play in this, this is where they can go."
Commodity ETFs are made up of futures or asset-backed contracts that represent the commodity targeted.
The creation of new funds has not translated to a near-term surge in investment, however, as assets under management have eased slightly.
"It takes awhile to bring a new fund to market. Often by the time the new fund is trading, the market is not as eager as it might have been to use it," said Roseen.
Trading volume varies as interest grows or wanes from one sector to
another.
Roseen said some of the net new money entering the ETF arena is being brought in to create inventory so investors can take short positions.
The most recent data, for January 31, 2012, shows $3.166 billion in assets under management in the 27 funds -- down from $3.952 billion at year end 2010 but well above the year-end 2009 total of $1.783 billion.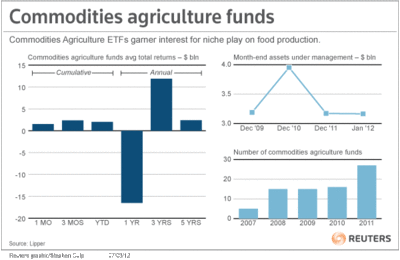 NEW FUNDS ARE CROP SPECIFIC
In the universe of exchange traded funds focused on agriculture, many are commodity specific. The new entrants this year track markets for wheat, sugar, soybeans, cotton, coffee, and livestock, reflecting returns tied to futures contracts for the physical commodities.
Returns vary widely, with steep losses in 2011 following strong gains in 2009 and 2010.
For the three months ending February 29, returns ranged from a negative 15.62 percent to a gain of more than 11 percent in the groupings of ETFs focused on a blend of agricultural commodities or specific individual commodities.
Abraham Bailin, Morningstar ETF analyst, said the asset class historically has a low correlation to equities and fixed income markets, making it particularly attractive in the aftermath of the 2008 downturn, as investors scrambled for diversification.
Recent additions to the market offer both broad basket options as well as individual commodities, and many funds have adopted curve positioning strategies that account for the rolling of the spot month in futures contracts. Among the best performers amid the funds over the three year period from February 2009 through February 2012 is a Dow Jones-UBS sub-index tied to cotton futures. Another top three-year performer is a fund focused on futures contracts for coffee, cotton and sugar. One of the worst performers is focused exclusively on cocoa.
GROWING INVESTOR INTEREST FOR LAND
Investor interest in agricultural land and crops has grown in recent years as food demand is seen rising amid a growing global population. The rise in the exchange traded funds focused on specific commodities comes alongside strong interest in a number of farmland investment funds.
Farmland is being gobbled up in the United States, South America, Africa and elsewhere. Food prices hit record highs in February 2011 and then eased, but rose the first two months of 2012 again. On the Chicago Board of Trade, soybean futures rose more than 9 percent in February in the largest monthly gain since December 2010 and corn rose about 2.5 percent on the month helped by weather concerns, export demand and investment fund buying. Sugar futures also rose in February. Strong demand from China, the world's second-largest consumer of corn, was seen squeezing already tight global supplies.
(Editing by David Gregorio)