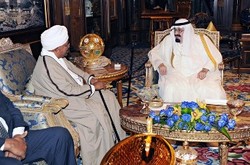 Saudi King Abdullah (R) meets Sudan's President Omer Hassan al-Bashir in Riyadh March 9, 2012 (Reuters)
Sudan Tribune | Monday 12 March 2012
Sudan says it welcomes Saudi King's initiative on Arab food security
March 11, 2012 (KHARTOUM) – The Sudanese finance and national economy minister Ali Mahmood Abdel-Rasool said that his government welcomes an initiative by Saudi King Abdullah Bin Abdel Aziz to work towards Arab food security through the implementation of major economic projects in Sudan.
The remarks by Abdel-Rasool came at the conclusion of a one-day visit by president Omer Hassan al-Bashir to Saudi Arabia on Friday where he held talks with the Saudi monarch.
Bashir was accompanied by Abdel-Rasool as well as the ministers of oil, minerals, agriculture as well as the Central Bank governor.
The composition of the Sudanese delegation suggested an attempt by Khartoum to seek financial assistance from Riyadh.
Sudan needs a financial lifeline after its economy was thrown into turmoil when South Sudan declared independence in July under the 2005 peace deal, taking with it three-quarters of the oil production, the driving force of both economies.
But there has been little indication that the Saudis pledged any specific support. This week Qatar promised $2 billion to Sudan in the form of treasury bills and other investments. It came after a meeting between Qatari Emir Hamad Bin Khalifa al-Thani and Bashir on the sidelines of a regional conference hosted by Doha.
The Sudanese finance minister said that while in Riyadh, the delegation met a number of Saudi businessmen and presented them with a number of investment opportunities. He added that the businessmen expressed readiness to enter into joint investment projects as well as expanding existing ones to promote the brotherly relations and achieve Arab food security.
He pointed out that Sudan has great agricultural potentials because of its vast natural resources and fertile lands.
The visit was successful, Abdel-Rasool said, adding that they discussed with the Saudi side increasing trade volumes between the two countries.
(ST)