Al Ghurair to seal 99-year farmland lease in Sudan
Published: 20 Feb 2012
Gulf News | 20 February 2012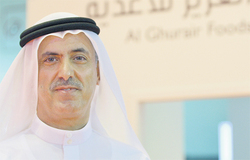 By Deena Kamel Yousef, Staff Reporter
Al Ghurair Foods is acquiring 100,000 hectares of farmland in Sudan to grow grain, a move in line with the UAE's efforts to address food security concerns, according to company chairman Essa Abdullah Al Ghurair.
The project to grow soy, wheat and other grains is a joint venture with a Gulf agriculture company and will be announced next month, he said on the sidelines of Gulfood 2012.
The grains will be exported to the UAE and the Gulf region.
The land will be acquired on a 99-year lease from the Sudanese government, he added.