S.Sudan seeks food and farmland investments
Published: 23 Dec 2011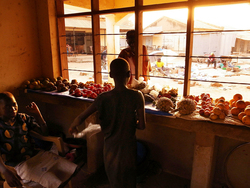 Vegetables are for sale in a market on the first day after the referendum vote January 16, 2011 in the town of Yambio, south Sudan. (Spencer Platt/Getty Images)
Reuters | Dec 23, 2011
S.Sudan seeks food and farmland investments
By Ulf Laessing
JUBA (Reuters) - South Sudan hopes to attract investors from Gulf Arab states, Israel, China and fellow African countries to boost production of basic food items, a government official said on Thursday.
Created in July after a 2005 peace agreement with Khartoum, Africa's newest nation faces food shortages and grave economic challenges such as annual inflation at almost 80 percent in November.
Around 2.7 million South Sudanese will need food aid from next year as widespread violence and crop failures have hit hard farm production, according to the United Nations' food programme.
South Sudan has held talks with investors from Gulf Arab states, Israel, China, Uganda and the Netherlands to invite them to invest into agricultural production, said Elizabeth Manoa Majok, undersecretary in the ministry of commerce, industry and investment.
"The government has made food production the top priority...80 percent of South Sudan depend on agriculture," Majok said in an interview in the capital Juba.
"No serious commitment has been made so far....(but) interest of investors is big," she said.
South Sudan wants with the help of investors to increase production of basic food items such as sugar, rice, cereals and oilseeds, livestock as well as cotton, she said.
"We import everything, even tomatoes. We should produce this ourselves," Majok said. "We have the farmland, the resources."
The government was preparing tenders to invite investors to revamp food factories damaged during the civil war and was also open to other partnerships such as farmland investments, she said without giving details.
Desert Gulf Arab countries have been trying to buy or lease farmland in Africa and Asia to secure food supplies but local famers have opposed such investments in some countries.
EAST AFRICA TRADE
Civil war waged for all but a few years since 1955 has left South Sudan with an almost complete lack of infrastructure and industry, aside from oil. The country has few paved roads outside Juba and large parts become inaccessible by ground transport during the rainy season.
Often described as one of the world's least-developed nations, it has high levels of poverty, illiteracy and maternal mortality rates. Hospitals and schools are scarce.
South Sudan is also under pressure to diversify its economy away from oil generating 98 percent of state revenues. Oil reserves will halve by 2020 if no new finds are made, according to the International Monetary Funds (IMF).
To facilitate trade with East African countries such as Uganda and Kenya the government is considering setting up free trade zones in border areas, Majok said.
"Consultants are doing a study on free zones. We haven't announced it yet," she said.
Landlocked South Sudan depends for most of its needs on imports which are driving up inflation. Roads to Uganda and Kenya are poor and tensions with Khartoum have disrupted supplies from the north.
"Their loss is bigger than ours because we are a big market," Majok said of tensions with Khartoum hitting bilateral trade.
Majok also said the government had passed new investment laws and was about to approve another package of bills to improve legal security for foreign firms.