Ethiopia: Gibe III - a dam too far?
Published: 20 Dec 2011
RNW | 20 December 2011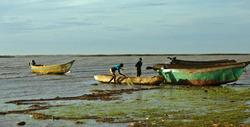 The Ethiopian government says the Gibe III dam will end the "backward lifestyle" of indigenous peoples in the area by transforming its southern wilderness into large-scale sugar cane plantations.
by Luc Van Kemenade
Addis Ababa — Michael Irgiena doubts if his ten children will ever be fishermen like him, or have any future living on the shores of the world's largest desert lake Turkana in the barren border region of Ethiopia and Kenya.
Lake Turkana, in the barren border region of Ethiopia and Kenya, is home to the Dasanech and Turkana tribes. Michael, a Dasanech tribesman living in a small village in northern Kenya, has been a fisherman for 26 years and, like his fellow tribesmen, he fully depends on the salty lake for his livelihood.
The semi-nomadic desert tribes often fight bloody battles over the region's scarce water and pasture which they use for fishing and cattle grazing. But the construction of an ambitious cascade of dams along Ethiopia's Omo river may pose a serious threat to the livelihood of nomads in the region, explains Michael.
"I was shocked when I heard the news about Ethiopia's dam on the radio," he says while sitting on his bed in his dusky dome-shaped hut at the shores of Turkana. "What came to mind very quickly was: what about the lake I am fishing in? What about my children?"
Hydropower
Gibe III is a two billion dollar dam funded by the Ethiopian government and one of Africa's largest hydropower dams in the Omo River that flows into Lake Turkana. It provides 90 percent of the region's water and is said to have nearly doubled the power capacity of East African nations.
According to the Ethiopian government, the dam will develop the region and end a "backward lifestyle", transforming its southern wilderness into highly productive cultivated farm land, irrigated by the dam's regulated outflow. It is hoped that domestic and foreign investors will grow sugar cane and other cash crops on a large-scale in the south, an area known for its numerous indigenous tribes.
But Michael is more cautious. "The water will be too salty, so there will be no fish living in the lake," he says. "And all the animals we have, all the cattle, will die. If there is no water, there will be no grass."
He also fears the dam will lead to further bloodshed among tribes, as the Dasanech and Turkana will be forced to move into neighboring tribes' territory in search of water and pasture.
Drying up
While Ethiopia denies that its dam will reduce water levels, a group of scholars from the United States, Europe and East Africa shares Michael's concerns.
In a 2009 study the Africa Resources Working Group estimated that water levels could drop ten to twelve meters drying up fish stocks and potable water. The United Nations subsequently called on Ethiopia to cease construction of the dam, fearing it would destroy Lake Turkana, listed as a UN world heritage.
But Ethiopia says there is "no way" that the project will be stopped, claiming its own studies show that Lake Turkana's water levels would increase and the dam's regulated flow would put an end to drought and floods.
Like other members of the Dasanech, Michael fears that Ethiopia's decision to move forward with the project without informing its people will have a negative impact: "If you do something without informing people, you know it will have an effect," he says. "It would be better if we all sit together and negotiate about what they are going to do for our people."
--
Ethiopia tribesmen fear forced end to "backward" lifestyle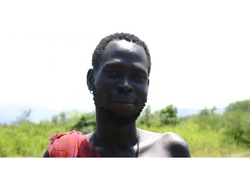 Duri Bela prefers a life of living in the bush to a modern life in a permanent settlement (Photo: RNW/ Luc van Kemenade)
RNW | 21 December 2011 - 2:08pm | By RNW Africa Desk
"We are a dying people," says Gorgis, a cattle herder from the Bodi tribe who lives in the bush near Hana town in South Ethiopia, home to the semi-nomadic Mursi and Bodi tribes.
By Luc van Kemenade, Addis Abeba
Like his fellow tribesmen Gorgis moves around with cattle in search of water and grasslands.
His family of two wives and eleven children grows crops along the banks of the Omo River that flows through Ethiopia's Lower Omo Valley, a world heritage site and the territory of sixteen indigenous tribes.
Just outside Hana, Ethiopia's state-owned sugar corporation has seized 150,000 hectares to set up a sugar plantation, annually sucking up three billion cubic meters of water from the river and occupying its fertile banks.
The plantation is part of a development plan that will transform the uncultivated area into cash crop producing farmland, Ethiopia says. Upstream the country is building one of Africa's largest hydropower dams.
The two billion-dollar dam called Gibe III will double Ethiopia's power capacity, it says. The dam's regulated outflow will be used to irrigate large plots of sugar farmland from a 150 kilometers-long reservoir.
Development
The push for development includes the resettlement of thousands of tribesmen into permanent settlements where Ethiopia says they will have access to health facilities and schools. The days of southern tribes, popular among tourists and academics, "walking around naked" and living a "backward" lifestyle are over, Ethiopia says.
"There are people who say they are concerned about pastoralists," longtime leader Meles Zenawi said in a speech earlier this year. "But they want pastoralists to remain a tourist attraction forever. The pastoralists don't want to live as a tourist attraction. They want a stable, improved life."
Most of the Bodi around Hana say Ethiopian officials haven't informed them. "The government is already building new villages and wants us to move there," Gorgis says. "We haven't been asked anything and our King says they are thieves."
Criticism
Rights groups have criticised Ethiopia's dam and the United Nations called for an immediate end to construction. The opponents say the dam will forever alter the lives of hundreds of thousands indigenous people depending on the Omo River. They fear widespread hunger and conflict over water.
Duri Bela, a Bodi pastoralist wearing a red chequered toga, says he never heard about the plans until bulldozers arrived in Hana to build the plantation. Now "they have taken our land, use our water, and are building on our fields", he says. "We might grow hungry."
Survival International, a rights group campaigning for tribal rights, reported a crackdown on locals in Hana opposing the dam, saying "over a 100" protestors had been arrested. People in the area wouldn't confirm the report, but said they are afraid to speak out against the plans.
Revolt
An expert in the region who asked to remain anonymous said there is no doubt that the tribes will take up arms against the government: "A revolt is going to happen."
Ethiopian officials say this is "false propaganda" from environmentalists trying to undermine their development agenda. It says locals will benefit from new jobs and will be compensated for resettlement.
But policemen in Hana detained Radio Netherlands Worldwide's correspondent for five hours after visiting the sugar corporation's local office, only to release him after a regional manager dashed into town in his four wheel drive, showing little confidence about journalists nosing around at the project site.
Duri Bela says he prefers living in the bush to a new life in a settlement. "I need my children to be pastoralists," he says. "When I see the town, I see few people making money. They sleep on the streets and beg. We don't want to become beggars in a town. Pastoralists don't beg."