Agrimoney.com | 24 October 2011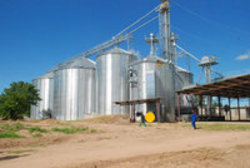 Agriterra's operations in Mozambique.
Agriterra revealed plans for further land expansion even after raising its cattle operations to about 16,700 hectares and entering the cocoa market through the acquisition of a Sierra Leone trader.
The African corn-to-cattle group said that it was seeking to expand by potentially 4,000 hectares its Mavonde stud ranch operation in Mozambique, where the group is due in December to finish construction of a 48bn-litre reservoir.
While the reservoir, which will also provide hydroelectricity to power water pumps, has sufficient capacity to irrigate 5,000 hectares, Agriterra currently only has 1,000 hectares at the site.
The group is also "in the process of acquiring" land near Freetown, the capital of Sierra Leone, to build a cocoa processing factory to complement the buying operations bought in July with the takeover of merchant Tropical Farms.
Furthermore, Agriterra is "evaluating additional acquisition opportunities from which to expand its activities" in Sierra Leone, including the possible purchase of plantation land aimed at growing sustainable cocoa beans and transforming the business into a "tree to market place" operation.
"The group's strategy to establish itself as a secure, sustainable and traceable source of supply is well timed to meet the requirements of the major cocoa consumers who are placing increased emphasis in this area," Phil Edmonds, the Agriterra chairman, and former England cricket international, said.
Losses narrow
The comments came as Agriterra unveiled a halving in net losses to $2.42m for the year to the end of May, on revenues up 55% at $13.6m, gained from its more mature corn milling operations in Mozambique.
The group's cash balance stood at $8.2m at the end of May, up from $3.4m a year before, and with the company owning a further 11,000 tonnes of corn on top.
Agriterra shares closed 2.5% lower at 2.17p in London.