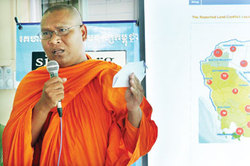 The Venerable Luon Sovath speaks during a meeting at the Cambodian Centre for Human Rights yesterday in Phnom Penh. Photo by: Hong Menea
Phnom Penh Post | Tuesday, 16 August 2011
Scope of land evictions revealed
John Anthony
Victims of land disputes nationwide are being encouraged to unite, as figures released yesterday highlighted the magnitude of what is often referred to as an "epidemic of land grabbing".
Ownership of at least 5 percent of all land in Cambodia was a matter of dispute between 2007 and 2011, according to a study by the Cambodian Centre for Human Rights.
CCHR presented the findings of its study on land conflicts in Cambodia at a press conference in Phnom Penh yesterday. As many as 47,000 families had been or could be affected by land conflict cases, some of which are ongoing, covered in the study.
The study, which was restricted to publicly available information, found that there had been 223 land conflict cases from 2007 to 2011. These comprised 165 reported land grabs and 66 evictions. More than 9,000 square kilometres of land had been confiscated during the period, the study found.
At the conference a number of land conflict victims delivered emotional accounts of losing their homes and land, and the impact it had on them.
Venerable Loun Sovath, the senior monk in Siem Reap' province's Chi Kraeng district, said that evictions violated human rights and international laws. "I call on the government, relevant ministries and stakeholders to enhance respect for human rights and the law," he said. Loun Sovath has become an outspoken voice on land rights issues over the past two years, combining human rights and a respect for the rule of law with peaceful advocacy grounded in Buddhist precepts. His advocacy on behalf of communities involved in land disputes began after two members of his family were shot during a land dispute in 2009.
Prey Lang committee chief Moeurn Sopheap also called on victims to band together.
"People must know that as the victims we have rights to make complaints. We have to unite, combat and protest against those violating our rights," Moeurn Sopheap said.
Prey Lang forest, which covers sections of four provinces, was in the spotlight earlier this year when hundreds of residents were evicted to make way for rubber plantations.
About 30 per cent of land conflicts in CCHR's study occurred in or around Phnom Penh, while border provinces accounted for 27 per cent.
Nearly half of all cases involved violations of human rights. A third of all land conflict victims were reportedly arrested while 45 per cent were subjected to intimidation or destruction of property.
CCHR president Ou Virak said the study would not have been possible without help from victims. He encouraged victims, various stakeholders and NGOs to rally together to combat land conflicts.
"These conflicts destroy lives. Cambodia has had enough of land grabbing and impunity, and real reform is required to ensure equality and security in the land sector," he said.
The study's findings will be presented to government ministries, parliamentarians and NGOs, he said.
The figures were limited to publicly available data as CCHR did not want to present statistics that the government would be likely to immediately dismiss. Ou Virak said. "We have more information on more cases, but we wanted to play the low-ball numbers."
The Ministry of Land Management had seen the figures and responded, which was a positive step forward, he said. But they disputed the figures and came back with a total of only 5,000 cases, a fraction of 47,000 the centre had found, he said.
The ministry declined to comment yesterday.
Land stats 2007-11

Worst provinces
• Phnom Penh - 22 conflicts
• Banteay Meanchey - 17
• Rattanakkiri - 17
Families: An estimated 47,342 families have been affected or could be in the future.
Resolution: About 90% of land conflict cases are unresolved.
ADDITIONAL REPORTING BY PHAK SEANGLY