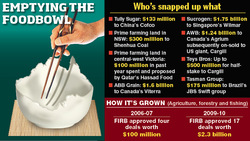 The Australian | August 03, 2011
Plan for China to invest in agricultural business rather than buy the farm
Siobhain Ryan
CHINESE companies could be encouraged to invest in Australian agricultural businesses instead of buying up farms under a new foreign investment model based on the practice in the mining sector.
Trade Minister Craig Emerson proposed the approach yesterday as a way of addressing public concerns over foreign ownership of farmland, while leaving the door open for investments that boosted agricultural productivity and sated the growing Chinese appetite for food imports.
"I think that there are many ways of approaching this issue. It doesn't mean that China, in order to attain food security, needs to own large tracts of land in Australia," Dr Emerson said. "It doesn't own all the minerals in Australia. The people of Australia own the minerals."
Dr Emerson said China had bought into mining ventures and there were similar opportunities on offer with Australian agribusinesses.
"Wouldn't it be great if we can envisage a future where there is extra production of beef and sheep meat in this country, which is good for our farmers, good for regional development and good for helping to meet China's food security needs. Why would you pass up that opportunity?" he asked.
Controversy over the extent of foreign landholdings in Australia spilled over into the Senate last month, triggering a Coalition-led inquiry into the issue.
The government has commissioned investigations into the level of foreign ownership of rural land and agribusinesses, which are due to report later this year, in response to public disquiet. But it still faces calls, from the NSW government and others to review the scale of offshore investment in productive farmland.
Nationals Senate leader Barnaby Joyce warned that Chinese companies which bought into agribusinesses such as sugar mills could still exert undue influence over Australian farming.
They could become a price setter for the myriad small local farmers tied to a specific regional mill because they could not afford to send their produce elsewhere.
"I'd say that controlling the centralised processing sector can be almost more dangerous than owning the land. It's a backdoor way of controlling vast tract of land," Senator Joyce said.
The Chinese company COFCO said last month it had taken majority control of Tully Sugar mill in north Queensland.