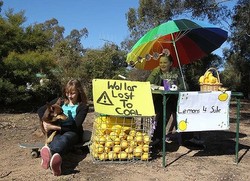 Sour taste ... Ruby Marshall, 12, and her sister April, 11, display an anti-mining sign at their lemon stall in the former farming village of Wollar. Photo: Peter Rae
Sydney Morning Herald | July 30, 2011
Foreign investors sow deep roots in food bowl
Leonie Lamont
Community agitation grows as farmers feel threatened, writes Leonie Lamont.
MINING and energy companies have bought more than 35,000 hectares of rural land in NSW in the past year, in a scramble with foreign investors in agriculture to snap up prime sites.
A Herald review of land sales found the mining interest was focused on a swath of rural land extending from the Upper Hunter through the rich Liverpool Plains to Narrabri. Mining companies spent more than $85 million buying 27,500 hectares in this area - nearly 80 per cent of the total bought.
Community agitation about the collision of farming and mining interests has risen with miners' purchases including $14 million paid by Coalworks for Kurrumbede, the family property of poet Dorothea Mackellar, near Gunnedah.
Advertisement: Story continues below
The miners' outlay of $113 million is challenging overseas investment in agriculture, which amounted to $125 million in the past year, buying 225,000 hectares. Despite the soaring dollar, Australia's openness to foreign investment has made it an attractive destination for miners as well as investors and sovereign wealth funds seeking to exploit the growing demand for agricultural produce.
Chris Meares, a land agent and rural property expert, said over the past year the main ''buying power'' had been institutions, corporates and mining companies - many foreign-owned.
''In the last two years, credit has got very difficult to obtain in Australia,'' he said. ''Initially [after the global financial crisis] the overseas investors said the dollar was too high, but then they saw some very good investment opportunities sitting there. Commodity prices were strong and there was little opposition from Australian investors, so they could come in and buy assets globally at very cheap rates. That's what's happened.''
The mining boom in NSW is underpinned by prices for thermal and coking coal, which have jumped almost 60 per cent over the past five years. Export prices for liquefied natural gas - which are driving the coal seam gas boom in Queensland and NSW - have risen 36 per cent in five years and are still rising.
Mining companies said it was wrong to assume the sales meant the land was excised from agricultural use. Aston Resources said its 2800 hectares near Tamworth, which it bought for $4 million, would not be mined as it was an environmental offset - high value native trees and grassland next to the Mount Kaputar National Park, and cleared grazing land that would be leased to the original farming owner.
But Bruce Marshall, who moved to the former farming village of Wollar 20 years ago, said expansion by the mining giant Peabody Energy there had ''split the community''. Anti-mining signs adorn his fence and the fresh lemon stall run by his daughters April, 11, and Ruby, 12, beside the road to the mine site2.
This month, the NSW government set new environmental and consultative conditions for miners and extractors.
The NSW Minister for Resources and Energy, Chris Hartcher, said there had been a ''changed paradigm'' that people had to acknowledge but residents and mining companies needed to know what the rules were.
''If it is essential to protect water or prime agricultural land. We will not shy away from making the decision it is inappropriate [to mine] in these areas.''
The Herald used RP Data, a property information system, to review sales of more than 250 hectares during the past year. The review did not cover purchases by individuals - typically farming families - and small companies associated with them.
The biggest mining spender was Shenhua Watermark, majority owned by the Chinese government, which spent $26.5 million on 2700 hectares in the Gunnedah area. It has spent more than $200 million acquiring land for its planned $1.7 billion open-cut coal mining operation.