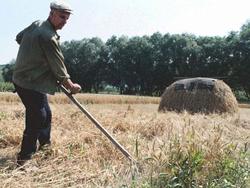 The state wants to buy up at least 30% of Ukraine's farmland
Kyiv Post | 26.07.2011
State planning to own at least 30% of Ukraine's farmland
Interfax-Ukraine
The state does not want to see mass sales of land plots by famers and wants to buy up at least 30% of the country's farmland, Deputy Head of the State Agency for Land Resources of Ukraine, Mykola Kaliuzhny, has said.
"It's important to inform people that the pecuniary assessment methods will be revised, and the price of land plots will grow. The price of a hectare of farmland will grow to Hr 20,000. The state plans to buy up at least 30% of the farmland," the press service of Kaliuzhny reported.
He added that the position of the agency regarding the restricted circle of people who will be able to buy land in Ukraine, as stipulated in the draft law on the land market, is still the same.
"Although the World Bank is not happy with the absence of companies in the farmland market, we're insisting on our position, which remains unchanged, and is based on our understanding that companies could easily establish several companies, creating a gap for [the entry of] foreign capital," he said.
He added that the price of farmland in Ukraine is undervalued today. Its price is $500-800 per hectare (EUR 350-550), while in the European Union its price is from EUR 2,000-3,000 to EUR 10,000.
As reported, currently the sale and purchase of agricultural land is banned in Ukraine until the laws on the state land cadastre and the land market are adopted.