Bread for all | 15 June 2011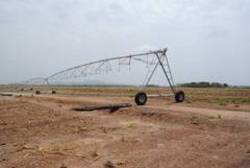 Before the construction of these irigation works by Addax Bioenergy, these fields were used by local communities for subsistence farming.
Freetown (Sierra Leone) and Berne (Switzerland)

The Sierra Leone Network on the Right to Food (SiLNoRF) today published the Independent Study report on the sugarcane-to-ethanol project of the Geneva based firm Addax Bioenergy.

At the press conference in Freetown (Sierra Leone), two researchers from Ghana, Mike Anane and Cosmos Abiwu, who conducted the research, presented the results of the Independent Study. During 5 weeks in Sierra Leone, the researchers investigated the backgrounds of the Addax investment, the human rights aspects of Land Lease Agreement and interviewed communities in 12 villages affected by the operations of Addax. The researchers found that "many farmers in project affected communities have already lost their access to fertile lands, though Addax has provided community members with alternative farm lands and confined them to smaller lands, promises by Addax to plough and harrow the lands materialized too late in 2010. This led to very low yield on these fields and local communities reported to now face growing food insecurity and hunger." Furthermore, the researchers observed that "water has become an ever increasing problem for the communities as lands leased by Addax are currently being prepared and even at this initial stage some water bodies such as the 'Kirbent' and 'Domkoni' streams near the Maronko village in the Makari Gbanti Chiefdom have ceased to exist."

The press conference was also attended by Dr. Beat Dietschy, Director of Bread for all, the Development Service of the Protestant Churches in Switzerland. The study was commissioned by Bread for all and two German development organizations, Bread for the World and EED.

"The results of the study correspond with the recent research by two staff of Bread for All," Beat Dietschy said at the press conference in Freetown. One of the mandates of Bread for All is to ensure that Swiss companies fulfil their human rights obligations. "We are shocked that the landowners have given consent to Addax based on verbal promises which have not been realized. And we are concerned about some clauses in this contract. Moreover, the landowners had no copies of contracts and limited knowledge of their contents. So they could not give an informed consent. We are alarmed by this situation that has a large potential for conflict."

A lawyer, Sonkita Conteh, who analyzed the Land Lease Agreement, concludes that some clauses may well contravene existing law (e.g. The Water Control and Supply Act 1963): "The conferring of a right on Addax to stop or alter a water course or restrict access to a water course may constitute an interference with the right to access water for domestic uses of those within or near the project area."

Dr. Beat Dietschy calls SILNoRF, Addax Bioenergy, Bread for All and other interested parties to join a multi-stakeholder dialogue to discuss and resolve existing problems and challenges.

For more information:
Yvan Maillard Ardenti, Programme Officer, Bread for all, +41 79 267 01 09