Financial Express | 24 May 2011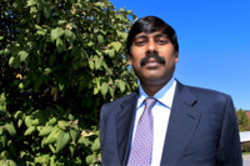 Ram Karuturi says he is targeting to acquire up to a million hectares of land in Ethiopia and other parts of Africa to build an integrated global agri-product company.
MK VENU

Addis Ababa: A chance meeting with Ram Karuturi, chairman and managing director of Karuturi Global Ltd, in the Ethiopian capital of Addis Ababa brought home the sheer scale of ambition that Indian entrepreneurs are nurturing in the African continent. Karuturi is the largest producer and exporter of roses in the world, and he does this almost entirely out of Ethiopia and Kenya under greenhouse conditions. The company produces 500 million rose stems annually and exports them largely to Europe, US, Middle East and Japan.

Ram Karuturi's ambition does not stop here. "I want to be among the top four or five integrated agri-product companies in the world. And I will implement this vision out of Africa", says Ram. Headquartered in Bangalore, he is attempting in Africa something he cannot possibly dream of doing in India, given the problems of aggregating land for mass agriculture production. Ram says he is targeting to acquire up to a million hectares of land in Ethiopia and other parts of Africa to build an integrated global agri-product company.

His business logic is very simple. The world faces a major food shortage and there is an urgent need to bring another 7 million hectares of land globally under cultivation of various food products. Much of the world is reeling from supply shortages, a major cause of widespread food inflation. The Karuturis want to fill this demand supply gap by bringing an additional one million hectares under agri production in Africa.

Ram sees this as a big opportunity and is negotiating with African governments to progressively acquire up to one million hectares of land to grow maize, sugarcane, vegetables, food grains, corn and what have you. He has already procured under 50- to 90-year leases some 300 sq km of land in Ethiopia. Just to give us an idea, Nagesh Karuturi, CEO of the company's operations in Kenya and Ethiopia, says the land acquired so far is many times the size of the land on which the city of Mumbai is inhabited! This brings home the sheer scale of operations the company is dreaming of in Africa.

The first crop of maize will be harvested by this year end. The success of the company's floriculture operations appears to have won them the confidence of the governments of Ethiopia and Kenya where land is still available in abundance. The Karuturis may not have imagined until they came to Africa in 2004 that they would become the world's largest producer and exporter of rose, with a market share of close to 8%, which is expected to go up to 13% as more land is brought under rose cultivation in greenhouse conditions.

This writer visited their rose farm some 50 km outside Addis Ababa where the company provides employment to some 3,500 local workers who grow, cut and pack the roses grown in highly scientific conditions. A pack of 10 roses sells for over 5 euros in the European market.

What are the advantages of exporting from Africa? For one, Nagesh Karuturi says cargo freight from Africa to Europe is at least 40% cheaper than it would be from India to Europe. Labour in Africa is still much cheaper than in India, where the labour arbitrage is slowly narrowing. For instance, the average daily wage of a farm worker in Ethiopia is less than $2 a day. For the sake of comparison, the minimum wages for semi-skilled workers in most states in India today is well over $3 a day. Nagesh says the company provides workers' families with housing and health facilities in addition to the wages.

Operations from Africa give the company a profit margin of at least 30%, something other emerging economies don't offer. The Karuturis had studied Latin America but found it far less cost-effective. They also enjoy a generous tax holiday granted by the governments in Africa.

When asked where would their markets be for selling agri products once they scale up to the size they are envisaging, Nagesh Karuturi said the entire production could get absorbed in Africa itself where a billion-plus population is gradually demanding greater variety in food.

Other prominent Indian industrialists, who have gathered in Addis Ababa to showcase Indian business's growing presence in the continent as part of the India-Africa Forum Summit, are also looking at massive expansion plans in these markets.

Adi Godrej, chairman, Godrej Group, said his company was already a market leader in 14 African countries for hair care products, ahead of well-known European competitors like L'Oreal. Similarly, Harsh Mariwala, CMD of Marico Industries said he was also looking at more acquisitions in Ethiopia and other high-growth African countries to increase market share in the continent. Some Indian businessmen have got more lucky than others in Africa. For instance, an Indian businessman from Kolkata won a cobalt mine in Congo through a government tendering process.

After the company began mining, it discovered the mine had large copper deposits too. The project is worth billions now. Interestingly, while the Chinese are becoming known for building big infrastructure projects like roads and airports in various African countries, Indian companies seem clearly ahead of their Chinese counterparts in grabbing the mind space of Africans with good FMCG brands which touch their everyday lives.

Indian automobile brands also seem to be way ahead of the Chinese auto makers. The Tatas and Bharti Airtel already have made a huge impression here. Clearly, India Inc's "Africa Chalo Aandolan" is gathering momentum by the day.