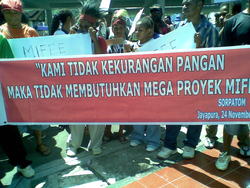 Peaceful action against the mega food and energy project by the Papuan People's Solidarity Reject MIFEE (SORPATOM), in front of Parliament of Papua, on 24 November 2010.
International Conference on Global Landgrabbing | 04/19/2011

Longgena Ginting, WALHI/FoE Indonesia, Jalan Selamet Ketaren 100, 20371 Medan, Indonesia and Oliver Pye, Institute of Oriental and Asian Studies, Bonn University, Nassestrasse 2, 53113 Bonn, Germany

This paper looks at a new major land grab in Indonesia, the Merauke Integrated Food and Energy Estate in West Papua, Indonesia, known more commonly by its acronym MIFEE. First of all, we introduce MIFEE and discuss some of its key defining features as well as the particular context of the project defined by the history of Indonesian occupation of West Papua. Because most of the project has yet to materialise, we have little to contribute to those questions posed by Borras et al. (2011) regarding the changes in agrarian structures, social differentiation and impacts of displacement and dispossession. We also do not discuss the policy narratives by the project proponents, as these are analysed very well in the excellent paper by Takeshi Ito, Noer Fauzi Rachman, Laksmi A. Savitri (2011). Rather, the focus of this paper is on the emerging resistance to the MIFEE land grab.
Download PDF (200kb)