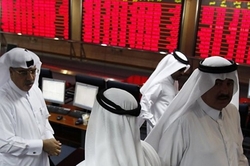 Qatari investors recently acquired a tract of agricultural land and food-processing facilities in New South Wales
Wall Street Journal | May 15, 2011

By ANDREW CRITCHLOW

SYDNEY—Australia's most populous state, New South Wales, says it is scouring the world's sovereign-wealth funds for help financing the construction of critical infrastructure worth billions of dollars. It should look no further than the oil-rich sheikdoms of the Middle East, which after a long history of investing overseas are poised to look seriously at the resource-rich Pacific nation for the first time.

Armed with an Aaa rating from Moody's Investors Service and an economy that, largely due to its wealth in iron ore and coal, emerged relatively unscathed from the global financial crisis, Australia has done well in attracting its share of foreign direct investment. Gulf nations, however, don't make it into to the top five investors.

The U.S., the U.K. and Japan, chased increasingly by China, are the leading investors in Australia. Meanwhile, Australian companies and assets have so far failed to catch the eye of the Middle East's most active and wealthiest investment funds. Instead, Gulf investors continue to choose major markets in the U.S., Europe and Asia for strategic investments.

Companies including Citibank Inc., Barclays PLC, Volkswagen AG and Credit Suisse Group are just a few of the major blue chips that have benefited at some point from Gulf investment. Arab investors own exclusive addresses and real estate in New York and London; the same can't be said of Sydney, Melbourne, or Perth.

But there are signs this trend could be about to change. Officials from the United Arab Emirates, home to the region's largest sovereign-wealth fund, visited Australia last month as part of a trade delegation and were upbeat about prospects for investment.

"It's a really undeveloped relationship," said Michael Yabsley, chief executive of the Australian Gulf Council, which promotes trade, investment and cultural interests between Australia and Bahrain, Kuwait, Oman, Qatar, Saudi Arabia and United Arab Emirates—the six states that comprise the Gulf Co-operation Council. "By comparison with the relationships with China, the U.S. and the U.K., ours with the Arab Gulf states is at a very early stage."

Certainly, Australia's government in Canberra has placed building stronger trade and investment links with the Arab states of the Persian Gulf as a key priority. Foreign Minister and former Prime Minister Kevin Rudd has become a frequent visitor to the region, which accounts for about four billion Australian dollars (US$4.2 billion) of two-way trade, and has opened talks with Abu Dhabi over the sale of uranium to fuel its landmark nuclear-power program. Arab brands such as Emirates Airline have also become more familiar to Australian consumers thanks to sponsorship of major sports including cricket and the Australian-rules-football team Collingwood and a growing number of scheduled flights here. Dubai's ruling Maktoum family has a long history of investing in Australia's finest horse-racing bloodstock.

According to Mr. Yabsley, agricultural land is among the top asset classes in Australia being considered by Gulf investors who have placed food security at the top of their priorities. This trend has already started with Qatar recently acquiring a tract of agricultural land and food-processing facilities in New South Wales, but given the vast areas of farmland available in Australia these investments remain relatively small.

To be sure, barriers to more investment from the Gulf remain. The sale by debt-laden Dubai's DP World of its remaining stake in container-services firm P&O Trans Australia along with the disposal of its other Australian operations to Citi Infrastructure Investors for US$1.5 billion sent the wrong signal about sentiment moving forward.

Of course, not all investors are welcome in the context of the political upheaval under way across the region. Sons of Libyan leader Col. Moammer Gadhafi were frequent visitors, but Australia's government has so far uncovered no assets. The mood of the Foreign Investment Review Board, which vets significant overseas acquisitions, will be a point of anxiety for Gulf investors. The board's rejection of the Singaporean bid to take over Sydney-based stock-market operator ASX Ltd. on grounds of national interest highlights the risk of how such deals can quickly become politicized.