Gulf Times | 11 May 2011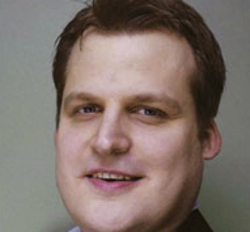 Martin Keulertz
By Ross Jackson
The Qatar Environment and Energy Research Institute has hosted a seminar, highlighting the risks and opportunities for foreign direct investment in African land, as many Gulf countries seek to secure their own food supplies.

Speaking at Texas A&M Qatar yesterday, Martin Keulertz, a researcher in geography at King's College London said that while many countries have seen significant increases in water productivity in agricultural production, Sub-Saharan Africa (SSA) has failed to maximise its potential.
While Latin America is considered to be the breadbasket for Europe, Middle Eastern and Asian countries have yet to secure satisfactory access to food, a problem that has been exasperated by recent fluctuations in international markets.
Africa has seen a massive influx of foreign investment from major European and American companies, as well as Arab and Asian governments and private firms.

According to Keulertz, the royal family of the United Arab Emirates has acquired 2.2mn hectares of Sudanese land, although its final purpose has not yet been made clear. The UAE government has also acquired 1.2mn hectares in Pakistan and Sudan, while Saudi Arabia has acquired over 1.6mn hectares in Egypt and Sudan, and invested $100mn in Ethiopia last year.
Qatar has focused on forming strategic partnerships with a number of countries, including Sudan and Ghana, to advance its own food security through agricultural
investments.
In the last decade food prices have seen a dramatic increase, said Keulertz, due to in part to climate change and crop failure, but also, quite significantly, price speculation. Food prices were a contributing factor to the Egyptian revolution, highlighting the need for agricultural investments to be able to adequately feed local populations.
The Guinea Savannah, which stretches across the middle of the African Continent, is a "hotspot for foreign direct investment," due to an abundance of water in the form of rain, surface water deposits and 'root-zone' water, said Keulertz. Non-renewable water sources, such as lakes and aquifers, Keulertz warned, will not withstand significant foreign investment and intense agricultural production. Agricultural development must focus on 'green' water sources, such as rainfall and moisture captured from evaporation and plant transpiration.
He advised foreign firms to limit the scale of their developments and to adopt local methods in order to accommodate the population's needs and to ensure sustainable growth.
African governments have yet to set terms for foreign direct investments that specifically benefit rapidly growing local populations, although Keulertz believes that the development and implementation of technology will help African countries meet their food requirements.