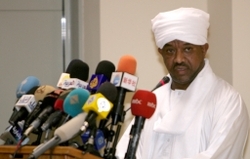 Kamal Hassan Ali. The treaty will protect UAE agribusiness investors in Sudan.
Sudan News Agency | 17 April 2011
Khartoum, April 17 (SUNA) - Sudan and the United Arab Emirates signed in Abu-Dhabi, Sunday a memo of understanding on the protection and encouragement of investment and agreed to remove all the obstacles impeding the UAE's investments in Sudan including the guarantees for transfer of the capitals, profits and interests out of Sudan.
The State Minister for Foreign Affairs, Kamal Hassan Ali signed for Sudan and the UAE's State Minister for External Affairs, Dr. Anwar Mohamed Gargash signed for his country.
The Foreign Ministry Official Spokesman, Khaled Musa told reporters that Sudan and UAE agreed to concentrate investment in the field of agriculture, referring that the UAE Al-Thahra Company expressed desire to invest in Sudan as strategic partner in the food security projects.
Musa indicated that the government stressed the necessity for increasing the UAE's investments in Sudan which amounted to 7 billion dollars, affirming the government's commitment to provide all the necessary procedures to encourage investment in Sudan.
Meanwhile, the State Minister for Foreign Affair will participate, Monday in Dubai in the International Conference for combating Piracy in Western Indian Ocean and the Coast of Somalia which will be attended by 40 countries. IFBack