Saudi Press Agency | 9 March 2011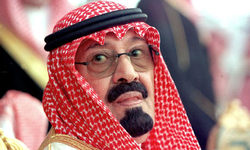 Saudi Arabia's King Abdullah (Photo AFP/Getty)
Khartoum - The Khartoum-based Arab Organization for Agricultural Development held at its headquarters in Sudan's capital of Khartoum today the Periodical Forum on Agriculture and Food, which was allocated to discuss the Custodian of the Two Holy Mosques King Abdullah bin Abdulaziz Al Saud initiative on Saudi agricultural investments abroad.

Dr. Abdullah bin Abdullah Al-Obeid, Undersecretary of the Ministry of Agriculture for Research and Cultural Development Affairs briefed the gathering on the incentives behind the initiative, noting that the initiative is part of Saudi Arabia's efforts to secure food and agriculture in the Arab world.

He said the initiative urges Saudi private sector to invest abroad in agriculture and that Sudan is top of the list of countries selected for Saudi investments.