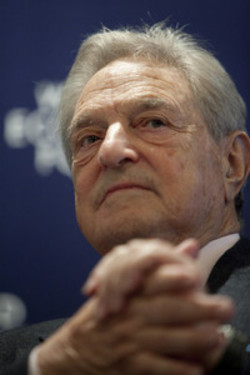 George Soros
The Associated Press | January 25, 2011

NEW YORK

South American agricultural company Adecoagro SA is expected to go public this week in an initial public offering worth around $400 million, including about $99 million that will go to existing shareholders.

Adecoagro is based in Luxembourg, but it does business in Argentina, Brazil and Uruguay. Its businesses include farming, cattle and dairy operations, sugar, ethanol and energy production and land transformation. It said it is one of the biggest farmland owners on the continent with holdings worth about $784 million, and it is a leading dairy producer.

The company filed papers with the Securities and Exchange Commission announcing that it plans an IPO of 28.6 million shares priced at $13 to $15 per share, implying gross proceeds of $371.4 million to $428.6 million. Adecoagro is selling 21.4 million of those shares. The remaining 7.1 million shares are being sold by company stockholders.

The underwriters of the IPO will have an option to buy another 4.3 million shares to cover any over allotments.

The company has applied to list its shares on the New York Stock Exchange under the symbol "AGRO."

The largest shareholder in Adecoagro is Pampas Humedas LLC, an affiliate of Soros Fund Management LLC. Pampas Humedas currently owns about 34 percent of the company. The proposed IPO also includes an agreement in which shareholder Al Gharrafa Investment Co., a subsidiary of Qatar Holding LLC, will buy another $100 million in stock if the gross proceeds of the IPO are greater than $400 million. If the gross proceeds are less than $400 million, Al Gharrafa will buy stock equal to a quarter of the gross proceeds.

In a form filed with the Securities and Exchange Commission, Adecoagro said it owns 21 farms in Argentina, 15 in Brazil and two in Uruguay. It operates rice processing facilities, has a dairy operation with 4,500 cows, owns two coffee processing plants, seven grain and rice conditioning and store plants and two sugar and ethanol mills.

Morgan Stanley, Credit Suisse and Itau BB are global coordinators and joint book runners for the offering, Deutsche Bank Securities is a bookrunner and Banco de Brasil Securities, Santander and Rabo Securities are co-managers.