Africa land grab could distort trade: IFAP
Published: 15 Jun 2009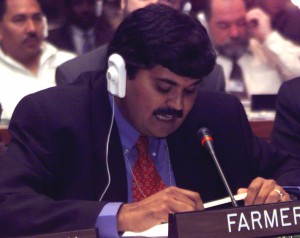 Reuters | Monday June 15 2009
Blames lack of investments by govts in agric for land grab
Says global agriculture plan needed to prevent food riots
By Wendell Roelf CAPE TOWN, June 15 (Reuters) - A spate of controversial land acquisitions in Africa is a direct result of lack of investment by poorer governments and may worsen global trade distortions, the head of the world's leading farming lobby said on Monday. Companies from the United States to the Middle East and Asia are eyeing investments in large farms on the world's poorest continent, looking to buy or lease land some activists have criticised as "land grabs." "Basically this development is as a direct consequence of the lack of investment and prioritisation of investment in agriculture by many, many developing country governments," Ajay Vashee, president of the International Federation of Agricultural Producers (IFAP), told Reuters. "At the moment the way it's panning out is it's more towards ensuring food supply for countries or maybe raw materials...but it could lead to a situation where it could have ramifications on trade in the years to come," Vashee said on the sidelines of an African agriculture conference in Cape Town. However, Vashee, whose organisation represents 600 million farmers and 115 farmer organisations in 82 countries, said he could not see the distortions yet. Large swathes of arable but fallow land in Africa has prompted rich countries, such as Saudi Arabia, to buy or lease tens of thousands of hectares of land as they seek greener pastures to help secure food security at home. But the land acquisition phenomenon has been derided as exploitative by land activists and prompted the World Bank and European Union to call for guidelines.
SOLUTION
"We need to have functioning land markers, we have to have a tenure system for land ownership," Vashee said. "The market will allow us to transfer land title, tenuring will allow security of land property," he said.
Ramping up domestic investment among small-scale African farmers was the easiest way to increase productivity and prevent controversial land deals, which could be reserved for niche markets such as the horticulture industry, he said.
Vashee, forecasting food prices across the board would rise between 10-15 percent in the next two to three years, called for a global agriculture plan to be developed to help prevent food price riots which rocked Africa in 2008.
"We don't have concrete figures but we've got some permutations which are likely to show that it will up 10 to 15 percent across the board," Vashee said.
Among the main drivers of the predicted food price increases were higher energy costs and climate change considerations as a global economic downturn curbed consumer spending, he said.
"There is no global agricultural plan. It is ad hoc, it happens in some countries and doesn't happen elsewhere," Vashee said. (Editing by James Jukwey)