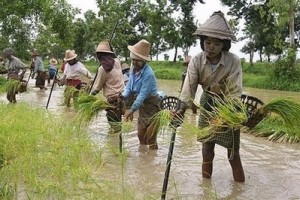 Myanmar Times | 1-7 September 2008
By Htin Kyaw
A KUWAITI delegation last week met with the Myanmar cabinet and industry officials in Nay Pyi Taw to discuss investment in the agricultural sector, a senior Myanmar Federation of the Chambers of Commerce and Industry (UMFCCI) executive told The Myanmar Times.
"The Kuwait side is very willing to invest in various business sectors in Myanmar using their money earned from oil sales. But the area in which they are most eager to make deal with us is contract farming," said U Tun Aung, president of the Myanmar Beans and Pulses Traders' Association and also a central executive member of the UMFCCI, who attended the August 27 meeting.
"They will provide the fertiliser and financial support, hiring Myanmar's land and human resources, and then in turn they will purchase the crops at world market prices. Paddy plantation and palm oil are the agricultural sectors they are most interested in," he said.
"There are many local companies who are willing to cooperate with them [Kuwait] but we advised them to discuss with government officials the details, the terms and conditions that are still needed to be finalised. Myanmar has an abundant supply of land to cultivate, we've got water and a large human workforce so it will be beneficial for us especially considering world food prices are still rising. The [Kuwaitis] are willing to make a long term deal if, from our side, we can give them the green light."
Senior economists at the UMFCCI also welcomed the proposal and were highly optimistic about the benefits for local farmers and the Myanmar economy.
Dr Maung Aung, a UMFCCI researcher and economist, told The Myanmar Times that a deal with Kuwait represented a good opportunity for local farmers and businesses because world food prices had more than doubled in the past year.
"Because of food prices have been rising internationally, almost every country is now seeking to find alternative ways to increase food production. Contract farming is one of those alternatives that can fulfil the goal," Dr Maung Aung said. "Ours is the agriculture-based nation. Because of this we have many advantages; an abundance of cultivated lands, water resources and a skilled work force. We should grasp this opportunity."
The Kuwaiti government dele-gation, led by Mr Ismael Al-Shatti, special advisor to Prime Minister Sheikh Nasser Al-Sabah, met with Myanmar government officials, led by Prime Minister General Thein Sein, as well as UMFCCI officials. The delegation will also meet with representatives from the Laotian and Cambodian governments to negotiate deals in those countries.
Mr Al Ajmi, Kuwait's non-resident ambassador to Cambodia and Laos, told Kuwait's official news agency KUNA on August 20: "Advisor Al-Shatti and a high level technical delegation will discuss during their visit details of the signed agreements ... in preparation for boosting bilateral trade exchange and economic cooperation."
A state level delegation, led by its Prime Minister Sheikh Nasser Al Mohammad Al Ahmad Al-Sabah, visited Myanmar in early August and reached some agreements on trade with the government, as well as signing an MOU with the UMFCCI.
Contract farming between farmers and local agricultural companies is already being employed in Myanmar, in Mandalay and Magwe Divisions and parts of Shan State, according to another senior economist.
"In this type of contract farming, the company or the employer pays for all the inputs like fertiliser and seedlings. All the cost of cultivation is subtracted from the total income to get the net income and the profit is then divided between the company and the farmers, based on that net income," he said.
The type of contract farming currently being discussed between Myanmar and countries like Kuwait and Bangladesh is known as "fertiliser subsidised contract farming", the economist said.
"Under this type of contract, foreign investors provide fertiliser to local farmers and the farmers have a responsibility to provide all the other necessary inputs, including land. The investor has an obligation to purchase all the crops at international prices when they are harvested," he said. "But the farmer has to repay to the investor the cost of fertiliser – with interest – after selling the crops. The interest is usually 4-6pc per month.
"This kind of contract farming will most likely be used when dealing with foreign investors."