IFC | 24 June 2014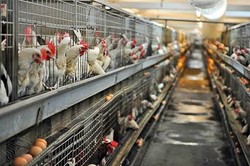 The World Bank's IFC announces $250 million in debt financing to Ukraine's leading poultry producer Myronivsky Hliboproduct (MHP), which has a land bank of 320,000 ha in Ukraine and 40,000 ha in Russia. (Photo: Kyiv Post)
IFC invests up to $250 million in poultry producer MHP to fuel Ukraine agribusiness
In Kiev:
Olena Harmash
Phone: +380 44 490 6400
E-mail:
[email protected]
Kiev, Ukraine, June 24, 2014—IFC, a member of the World Bank Group, is providing up to $250 million in debt financing to expand leading poultry producer Myronivsky Hliboproduct (MHP), which employs over 30,000 people, and to develop Ukraine's agribusiness sector, a key driver for the economy.
The financing package is IFC's largest investment in Ukraine since 2008. It includes $100 million in debt from IFC's own account and $75 million through the IFC Managed Co-Lending Portfolio Program, a new syndications platform that offers institutional investors the ability to passively participate in IFC's future senior loan portfolio. Additionally, up to $75 million is being raised from other lenders as syndicated loans.
"IFC's funding will help us continue our expansion program despite the challenging economic environment in Ukraine," said Yuri Kosyuk, MHP founder and chief executive officer. "We consider IFC a long-term partner, since the early 2000s. With IFC's support we will continue to build our regional and global competiveness."
Rufat Alimardanov, IFC Regional Head for Ukraine and Belarus, said: "We are stepping up our efforts to support Ukrainian companies and help the country realize its competitive advantages and return to economic growth. This financing for MHP is our largest investment in Ukraine's agribusiness sector."
Supporting agribusiness along the value chain is a cornerstone of IFC's strategy in Ukraine. The agriculture sector represents over 40 percent of IFC's current investment portfolio in the country. IFC is also implementing a large advisory program in the sector, helping simplify business regulations, modernize supply chains, improve competiveness, and expand access to finance.
IFC first invested in MHP back in 2003. Since then the company has grown into one of the largest poultry producers in Eastern Europe. It controls about half of the chicken market in Ukraine, a country of 46 million people. MHP sells about 40 percent of its products in Ukraine through a network of small and medium businesses and franchises, supporting economic activity across the country.
About IFC
IFC, a member of the World Bank Group, is the largest global development institution focused exclusively on the private sector. Working with private enterprises in more than 100 countries, we use our capital, expertise, and influence to help eliminate extreme poverty and promote shared prosperity. In FY13, our investments climbed to an all-time high of nearly $25 billion, leveraging the power of the private sector to create jobs and tackle the world's most pressing development challenges. For more information, visit www.ifc.org.
About MHP
MHP is a vertically-integrated company and the leading poultry producer in Ukraine. The group grows its own grain to supply its fodder mills and produces feed for its two breeder farms and five chicken farms. MHP undertakes the entire production cycle, from chicks to mature birds to finished product, and distributes its products with its own fleet of trucks. For more information, visit
http://www.mhp.com.ua/
.