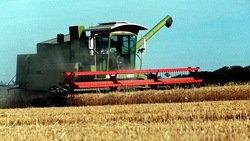 Foreign ownership of prime South Australian agricultural land continues to increase, renewing calls for a register. (Photo: News Limited)
The Australian | 17 June 2014
Qatari Government buys up 14,000 hectares of prime South Australian farmland
by Cameron England
THE Qatari Government has bought more than 14,000ha of prime South Australian farmland worth more than $73 million.
The move has renewed calls for a national register of foreign ownership of Australian farmland – a Liberal Party pre-election promise which is yet to be fulfilled.
The Middle Eastern Government-owned Hassad Australia has recently made significant land purchases on western and central Eyre Peninsula, including more than 3000ha at Ungarra.
It has also bought land around Burra. The land will be used for crop production.
The properties add to purchases made late last year at Cummins and Edillilie on the Eyre Peninsula, and at Hanson, also near Burra.
Over the past few years Hassad has amassed a property portfolio of 14 major wheat and sheep farms or clusters of properties across four states, covering 287,000ha.
In 2012 Hassad bought a $9 million cattle property near Bordertown and also owns a Telopea Downs sheep station on the SA-Victoria border.
The Federal Government has committed to tighten the rules for foreign investment in agricultural land but is yet to do so. It is proposing to reduce the threshold at which rural land acquisitions have to be referred to the Foreign Investment Review Board — down from the current $248 million to $15 million.
That change would not have affected the Hassad purchases, which must be signed off by the FIRB in any case, as they involved a foreign government-owned company.
The Government has also committed to a national register of foreign owned agricultural land.
South Australian Senator Nick Xenophon has proposed the threshold be as low as $5 million, and also supports a national interest test for land purchases by foreigners.
"Australia's Foreign Investment Review Board (FIRB) rules allow for Australian prime agricultural land to be too easily acquired,'' Mr Xenophon said.
He said the current threshold of $248 million, or $1.08 billion in the case of free trade agreements, was "ridiculously high and clearly not in the national interest".
Primary Producers SA chairman Rob Kerin said foreign investment was welcome but it would be good to see investments in productivity to increase farm yields.
He was also a fan of joint venture investments involving local owners, rather than outright purchases.
"Simple purchases are of little value to us, it's just moving from one producer to another,'' he said.
Mr Kerin said he supported the idea of a national register so foreign owners could not amass large parcels of agricultural land in small parcels, eventually ending up with significant tracts of land — which was not yet the case in SA.
Mr Kerin said Hassad had not been in contact with his organisation.
Hassad yesterday said in a statement it was a "committed investor in Australian agriculture for the long term''.
"Hassad Australia has maintained the full-time employment on its SA properties,'' it said.
"Existing contractor numbers will also be maintained. As the scale of the Mid North and Eyre Peninsula aggregations increases, this will allow Hassad Australia to increase the number of full-time employees.
"The existing cropping regime is being maintained and improved where possible, with the use of new varieties, latest farming system technologies and soil amelioration/nutrition management.''
Federal Treasurer Joe Hockey did not respond to requests for comment.