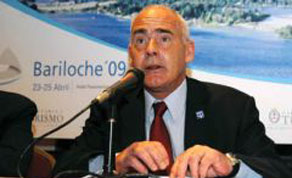 Gulf Times | 2 December 2010 By John Verghese Argentina Tourism Minister Carlos Meyer has hailed Qatar Airways' flights from Buenos Aires to Doha as an important step for enhanced ties between the two countries. "The launch of the flights in June has ensured a good increase in the number of visitors from the Middle East  to Argentina compared with the same period last year," he told the media on the sidelines of a gala dinner hosted by the airline on Tuesday night, to mark the carrier's successful operations in Argentina. "Qatar Airways has established Doha as an international hub of global importance and the route to Buenos Aires has greatly facilitated travel to Latin America for people not just in the Middle East but Asia and beyond," Meyer said. The 18-hour journey which is the longest in the airline's network is linked via a brief stopover in the Brazilian city of Sao Paulo. "As well as tourism, the connection between Doha and Buenos Aires will help in greater understanding of cultures and to enhance trade between the countries. The flights will ensure easy access as we seek more investments in Argentina," he said. He said Argentina is focusing on promoting investment and tourism opportunities to develop the Latin American country's economy and to ensure allround progress and development. "Tourist exchanges are bound to foster closer ties between the people of the two countries," he explained and added that the campaign to promote tourism in Argentina would be stepped up worldwide and held right through the year. Meyer also revealed that the forthcoming visit in January by Argentina President Cristina Fernandez de Kirchner to three GCC states, Qatar, Kuwait and Saudi Arabia as well as Turkey would ensure greater number of agreements between Qatar and his country in various fields. "We  are hoping to reach an agreement in facilitating Qatar's interest in buying farmland in Argentina for cereals production," he revealed. In October, the head of  Qatar's national food security programme Mahendra Shah said as part of the country's drive to secure its food supplies it would invest in agricultural projects abroad as the country imports 95% of its food and hence was looking at options to gain additional food and water resources through Hassad Food, the agricultural arm of its sovereign wealth fund. The food security programme's chief had also said that Qatar would be keen to develop partnerships with target countries which are willing to sell their land to grow cereals and which would also foster their development and improve the livelihoods of its local farmers.
No change in Europe flight schedule
Qatar Airways has not made any revision of its flights to Europe so far even as heavy snowfall and unusually cold weather in several countries across the continent have brought major airports, vehicular and rail transport almost to a standstill. An airline source told Gulf Times last night there was no cancellation of Qatar Airways' Thursday flights to the UK, Switzerland or other countries though many European airports yesterday saw cancellation of hundreds of flights. "But we have to advise our passengers to check with our reservation offices for exact flight schedules. Since the weather is unpredictable, the situation can change and passengers are advised to clarify the status of their flights before departure," the source said.