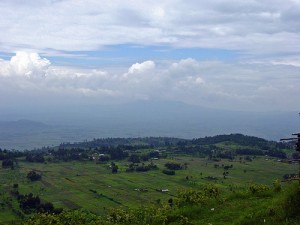 Reuters | Thu Nov 11, 2010
By Fumbuka Ng'wanakilala
DAR ES SALAAM (Reuters) - Tanzania expects South Korea to begin farming 15,000 hectares of land in the east African country early next year for food production and processing, a senior official said on Thursday.
Aloyce Masanja, director general of Tanzania's state-run Rufiji Basin Development Authority (RUBADA), told Reuters the initial cost of the Korea Rural Community Corp (KRC) project was estimated at $50 million.
State-run KRC signed a memorandum of understanding in August and will develop the land in partnership with RUBADA over the next five years at a projected cost of $50 million.
"A feasibility study is ongoing, which means the final cost of the project could change once the study is completed. We expect to start working on the land in the next farming season that starts in March 2011," Masanja said.
Countries like China, South Korea and the arid Gulf states are buying large swathes of land in Africa and Asia to secure food supplies. Critics say this is worsening food security in countries parcelling out land, especially in Africa.
Tanzania has 44 million hectares of arable land, of which the government says about 10.8 million is in use.
"Tanzania is blessed with millions of hectares of fertile farm land, but most of this land has been under-utilised for a long time," said Masanja.
The proposed KRC land is 160 km (100 miles) south of the commercial capital Dar es Salaam, part of a site covering 100,000 hectares reserved for large-scale farming, he said.
EXPORT PROCESSING ZONE
"The land will primarily be used for paddy fields to produce rice through irrigation farming. We will also grow other crops such as maize, cassava and simsim in upland areas," he said.
Masanja said Tanzania was in talks with other investors from Britain, the United States, Singapore, India and the United Arab Emirates who have shown an interest in setting up commercial farming and food processing factories at the Rufiji basin.
In 2009, Saudi investors asked the country if they could lease 500,000 hectares of farmland for wheat and rice farming, part of a plan to boost the desert kingdom's food supplies.
"An American company wants to invest in a 5,000-hectare cassava plantation and build a factory to produce starch for the export market," he said.
He said the government also planned to set up an export processing zone (EPZ) within the Rufiji basin area to woo investors for agro-processing factories.
"RUBADA is charged with promoting and regulating development activities at an area that covers 17.7 million hectares. The size of this area stretches 177,000 square kilometres, so there is a huge potential for investment," he said.